If you need a break, don't discount a weekend "away" enjoying parts of Auckland you may have lost touch with. Cate Foster reconnected with the city.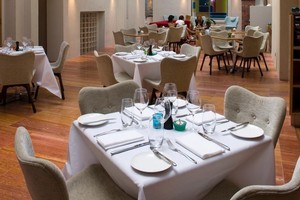 When winter's at its bluest what's a girl got to do but indulge in a spot of pampering. Well, that's what a friend and I decided was the answer to the season's leaden skies and chilly blasts. We'd ignore them and explore the side of Auckland that Aucklanders seldom see. We also decided we'd revisit some old faithfuls to see if they lived up to our fond memories of nights gone by.
First of all our accommodation had to be of the highest standard, so we headed to central Auckland's very own boutique hotel in the heart of the CBD, and we weren't disappointed. The recently refurbished Hotel DeBrett lived up to its hype. From the comfortable two-level suite to the quirky mid-century influenced furnishings, this was a reworking of a landmark that deserves the reputation it is gaining for an opulent but light-hearted spin on luxury living.
That night, after decadent wallowing in a bathroom of dreams, we dined at Kitchen, DeBretts' own onsite eatery, and very good it was too. "I'd come here again," enthused my mate as we polished off the last of a near-perfect meal with gusto (duck leg confit for me, baked hapuka for her). "A good find!"
At Kitchen, and later in the hotel's iconic Housebar (the site of fond memories of nights in the 80s for us), we imbibed cocktails amid a sleek downtown vibe that Aucklanders often miss as we stick to tried and tested venues in our local neighbourhoods. We were able to convince ourselves that we could have been in Melbourne.
Bright and early next morning after the hotel's healthy breakfast I scampered up the road to my pre-booked massage in the gently-scented ambience of the East Day Spa. I knew I was in for a treat in an establishment renowned for offering soothing Balinese holistic treatments. An hour later after the sort of massage often dreamed of but seldom found, I sauntered out into the winter sunshine, completely relaxed.
A lunch-time encounter with a giant bowl of spicy noodles at the ever-vibrant Food Alley in Albert St, and a wander through the designer shopping mecca of High St and Chancery, set me up for an afternoon coffee cruise on the Pride of Auckland. Home-made brownies and the hot drink of our choice in hand, we headed off in a gentle breeze up-harbour.
An hour and a half later with the low sun glinting toward sunset, all on board felt windswept and happy. We had seen the city and the water from a different angle than ever before.
But my day of luxury wasn't over. My friend and I met up for what turned out to be an unbeatable meal at the ever competent O'Connell St Bistro. We would have loved to have lingered, but a few hours of laughter at a perennial favourite, The Comedy Club, awaited us.
That night we fell into our soft beds, replete in every sense and woke the next morning with a new perspective on our home town.
Travellers' tips
* Where to stay:
Hotel DeBrett
2 High St, ph (09) 925 9000, hoteldebrett.com
* Where to eat:
Kitchen
Inside Hotel De Brett; ph (09) 969 1545 O'Connell St Bistro 3 O'Connell St, ph (09) 377 1884 oconnellstbistro.com
Food Alley
9-11 Albert St (opposite the Stamford Plaza Hotel)
* Things to Do:
Pride of Auckland Harbour Coffee Cruise
Cnr Quay and Hobson Sts, opposite Cargo Bar, Viaduct, ph (09) 373 4557 explorenz.co.nz
Auckland Art Gallery
New Gallery (opposite the old one undergoing refurbishment)Cnr Wellesley and Lorne Sts, ph (09) 307 7700 aucklandartgallery.com
East Day Spa
Ground Level, Grand Hotel, 123 Albert St, ph (09) 363 7050 eastdayspa.co.nz
Classic Comedy Club
321 Queen St, ph (09) 373 4321, comedy.co.nz