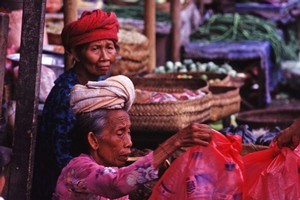 My partner and I are celebrating our 15th anniversary and are looking at travelling to either Thailand or Bali for 10 days with our 18-month-old. We would like some leisure time (near a beach) and are also keen to get off the beaten track but I'm hesitant about travelling with a boisterous toddler.
- Jane Andrews
Monique Choy, co-author of Lonely Planet's Travel with Children, writes:
Congratulations on 15 years. A holiday in Thailand or Bali is a great way to celebrate and both places are child friendly. They also add a dash of honeymoon sparkle.
Ko Samui in Thailand is a great choice to satisfy your craving for beach bliss with a dash of adventure. Most resorts will bend over backwards to make you feel welcome with cots, toddler pools and highchairs at the ready, not to mention on-site spas to ease those toddler-taming muscles.
There are excellent facilities around the island and the main decision you have to make is which beach you like the best. Try one of the quieter resorts on the north coast, such as Mae Nam or Bo Phut. Mae Nam Resort (manamresort.com) and Peace Resort (peaceresort.com) are good for families.
Samui offers kid-friendly adventures such as colourful markets, the thrill of hopping over the stern of a boat or chasing butterflies at Samui Butterfly Garden. There are grown-up adventures close at hand, too, such as the world-famous diving experience off nearby Ko Tao. You can organise babysitting through most resorts.
Among Bali's delights are the lovingly tended gardens, where a toddler can get lost among the hibiscuses and delightful floral offerings to the gods that are strewn along the streets. Most families skip the party zone down in Kuta and head for the beaches of Sanur, Lovina or Nusa Dua, where ocean-dipping is higher on the agenda than cocktail-sipping. Also, check out the hill town of Ubud with its relaxed, alternative vibe and cheeky monkey forest.
Choosing a compact island as your destination cuts down on the hardest part of travelling with a toddler - the actual travelling. But choose your accommodation carefully, as with naps and early bedtimes you'll be spending a lot of time there. Make sure there's separate space where you can relax while your child is asleep - it's difficult if you only have one room.
Another top tip for kid travel is to guard against them getting lost. Bring your plastic name-tag holder from the last conference or workshop you attended. Put your hotel's business card inside and attach it to your kid's clothing when you're out and about - the card will have your hotel's name in the local lingo and often a map.
You should be aware that both these countries carry a travel risk. Check the New Zealand Government's Safe Travel site for the official word.