Shelley Bridgeman sits in on an Auckland tour group to see what visitors learn about our city and to see it through a fresh pair of eyes.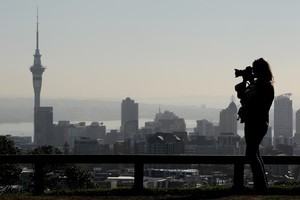 The merchandise in the souvenir shop quietly set the scene. T-shirts asked, "Can you handle the jandal?" while sweatshirts said "Sweet as". We were at tourism central in downtown Auckland and right next door was the office of the tour company from where my morning bus trip around the city was to commence.
This was an undercover assignment. Despite having lived in Auckland for 19 years, I was posing as a tourist in order to get an inside view of what visitors discover about our city and its inhabitants.
The bus seated 30-odd passengers, yet only a young couple from Italy and a family of four from near New Delhi, India, accompanied me on this sightseeing journey.
Linda, our friendly driver, doubled as commentator throughout the morning. Her spiel was rich with information, but the Indian dad was the only other one of her seven passengers who understood English. The international visitors would have missed much of the humour but I cottoned on to every nuance.
There was an exaggerated use of airborne speech-marks when discussing the "donation" that would be required to gain entry to Auckland's Museum, and Linda joked that at the Smith & Caughey's half-yearly sales there was "lots of hair-pulling and eye-gouging".
And, she quipped, "Oh, I forgot to show you my house" as we left Orakei's Paritai Dr, home to Auckland's priciest real estate.
There were some delicious turns of phrase. Spaghetti Junction is a "big tangle of roads and bridges", Britomart Transport Centre is "where the buses meet the trains", Auckland is "the powerhouse of the economy" and "almost by default the head office of New Zealand". "Strife" between the English settlers and Maori, "a very warrior-like race", tended to be over land, food and "the occasional chief's daughter".
And, although I've read the word "isthmus" in every tourist brochure ever written about the city, this was the first time I'd actually heard it uttered.
So what impressions of Auckland and its people would a tourist have gathered from this tiki tour around the city? The theme was one of continual improvement and progress. The fringes of our city were built on reclaimed land and to this day the upheaval that accompanies massive construction work is inescapable. From the rebuilding of the Newmarket flyover to the redevelopment of Eden Park and the Mt Eden Prison, heavy machinery and men in hard hats are part of our scenery. Historic buildings are relocated; villas and bungalows are in a permanent state of renovation; roads are forever being resealed. This is a metropolis determined to do better, to be the little city that can.
Aucklanders are a sporty lot - intrepid, also. Auckland Grammar School is the alma mater of more than 40 All Blacks, Sir Edmund Hillary - and Linda's own grandfather.
We're also egalitarian; boxy state houses sit just a stone's throw from the mega-mansions of Paritai Dr, and we have a vibrant and cheeky student population. Lion Brewery is poised to relocate from Newmarket's Khyber Pass Rd to East Tamaki - according to Linda its parent company is one of the most successful in New Zealand.
"Although, I'm not too sure what that says about our culture," she adds. Clearly, we like a tipple, too.
The Sky Tower's SkyWalk
Thrillseekers can walk 360 degrees around the outside of the Sky Tower at a dizzying height, but lily-livered cowards can shuffle out only about 7m before freezing with fear. I stood rigid, my white knuckles clutching the safety rope, just staring straight ahead and wishing for the experience to be over.
It's difficult to pinpoint exactly what freaked me out. It wasn't the orange jumpsuits we were all wearing - although their association with prisoners on death row was certainly fitting. The densely-typed declaration I'd just signed acknowledging that one of the risks was "death by falling" certainly made me a tad nervous.
But the final straw I think was the fact our guide wasn't content for the three of us novices to merely walk the 192m-high circumference. Oh no, he wanted us to look in, look out, look down, shimmy our toes over the edge, wave at the people inside the restaurant and hang out over the city supported only by two ropes running from the overhead rail to our harnesses.
He also wanted to talk about the glorious view, Waiheke Island, vineyards and where we all lived. "Gosh, Shelley, this is the quietest you've been all day," he said. Until then I'd been perky and chatty - hilarious even. It's funny what terror can do to your powers of conversation.
"Get me out of here," I growled - or words to that effect, and I was swiftly escorted back inside to the safety of the Sky Tower's 53rd level.
Luckily, my friend Victoria was made of sterner stuff. She may have had a nervous reaction and laughed uncontrollably when we first ventured out on the skinny metal ring but she quickly composed herself and successfully completed the circuit along with Norman, the retired policeman from Adelaide with a titanium knee.
But even she had her moments of doubt. The early part of the loop was bathed in sunlight but on the far side of the tower, about when the Waitakere Ranges drifted into view, the walkers were in shadow and the accompanying gloom influenced the mood.
"Suddenly, there seemed an awful lot of concrete down there," says Victoria. "I was just thinking: 'I want to get off now'."
The SkyWalk will take you 360 degrees around the 192m-high Sky Tower, on a 1.2m-wide walkway with no handrails. About 16,000 people have completed the SkyWalk since it opened in 2007. Allow 75 minutes. Adults, $135, children (10-15), $100. Sky Tower, cnr Federal St and Victoria St, Auckland City. Telephone 0800 759 925 or see skywalk.co.nz
Gray Line Tours
Gray Line Tours' three-hour Auckland City Highlights tour ($69 for adults) departs 172 Quay St at 9.15am and takes in Queen St, the universities, the Auckland Harbour Bridge, Mt Eden (we disembarked for 10 minutes at the summit), Auckland War Memorial Museum (for one hour), Paritai Drive and Tamaki Drive. The Spectacular Auckland full-day tour ($120) runs from 9.15am until 4pm and also includes a harbour cruise and a visit to the Sky Tower. Telephone 0800 698 687 or see graylinetours.co.nz
Tourism in Auckland
* Last year 1.7 million international visitors spent a total of 17.3 million nights in the region.
* Nearly 70 per cent of New Zealand's international visitors - most of whom hail from Australia, Britain, the US, China and Japan - enter the country through Auckland International Airport.
* The Ministry of Tourism forecasts traveller visits will grow by 9.3 per cent between 2009 and 2015.
* Tourism Auckland lists around 59 sightseeing tours on its website. See aucklandnz.com and tourism.govt.nz