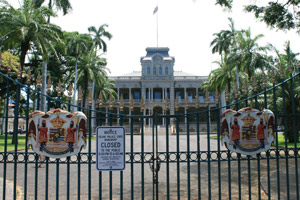 My partner and I are spending three weeks exploring the West Coast of the United States and flying home via Hawaii. We are basing ourselves at Waikiki Beach for four nights. How easy is it to get to the other islands and what would you recommend to do while there?
- Alix Waters
Sara Benson, author of Lonely Planet's Honolulu, Waikiki & Oahu guide and co-author of Lonely Planet's Hawaii guide, writes:
If you're going island hopping, you'll need at least a full day to visit just one of the other main Hawaiian islands. Taking a package tour can be efficient and low cost, but doesn't leave you much (if any) time to relax, let alone explore. Island-hopping tours typically put you on an outbound flight from Honolulu in the morning, then take you around on a charter bus to the neighbouring island's most touristy sights, stopping for lunch and/or maybe a dinner luau before flying back to Oahu that evening. It can be exhausting and not much fun.
Alternatively, book your own inter-island flights and a rental car online, giving you more flexibility. If I could only pick one neighbouring island to visit on a day trip, I'd choose Maui because of its compact size, the frequency of flights to/from Oahu and the huge variety of things you can do in a day there, like visit the historic whaling town of Lahaina, drive up Haleakala volcano or head down the serpentine coastal road to Hana, past waterfall pools and rural Hawaiian towns.
But you'll find plenty to see and do just on Oahu, too. Staying in Waikiki means you won't need to rent a car most of the time, because Oahu's public bus transportation system is so handy. With four days there, take a whole day just to enjoy the vintage-meets-mod Waikiki vibe. Laze on the beach, take a stand-up paddle surfing lesson, do some shopping and around sunset, catch the free outdoor Hawaiian music and hula show on the beach.
Spend another day in downtown Honolulu, sampling Hawaiian history at Iolani Palace and the Bishop Museum, browsing art at the Hawaii State Museum or contemporary galleries in Chinatown, where you can fill your belly at pan-Asian noodle shops. The next day, visit the WWII-era USS Arizona Memorial at Pearl Harbour in the morning, then tour Shangri-La, Doris Duke's former mansion, in the afternoon. On your last day, rent a car for the circle-island drive over the Pali Highway up to the North Shore's surf haunts, or head along Oahu's southeast shore, stopping to snorkel at Hanauma Bay, an underwater nature preserve that's like an outdoor fishbowl. Aloha and have fun.
Much ado about driving
A group of eight of us are spending three weeks in Italy, predominantly Tuscany. After a week in a villa, we have made hotel bookings in Levanto to spend time at the Cinque Terre. We will have ditched our rental cars by this stage. After this, we still want to spend time in Venice and Florence, before flying home from Rome. Is it best to catch a train from the Cinque Terre (I think La Spezia?) to Venice first? I have some websites for trains in Italy but find them difficult to understand. Or should we keep the rental cars? I am a bit nervous about too much driving, but felt we could cope around the villa for the week.
- Sandra Livingstone
Lonely Planet's European Travel Editor Tom Hall writes:
A car is a good idea while you have a villa. Having your own wheels gives you the freedom to take outings and go to larger supermarkets to fuel up.
Once this portion of your trip is complete, there's no need to drive when exploring Italian cities. You'll need to change train to travel from La Spezia to Venice, but one of the options is to do so in Florence before heading north. Venice is car-free so you'd be leaving yours in the Tronchetto car parks on the island while there and paying for the privilege. Cars don't combine well with Florence's medieval lanes and even hardened road hogs blanche at the idea of driving into Rome. Public transport is excellent and you'll cover most ground in Venice and Florence on foot. In Rome, underground metro and buses will take you to most places you can't reach on foot.
If you find the Trenitalia website difficult to work through, Seat61 should give you enough of the basics to get going. Once in big cities, you'll find English-speaking staff at some ticket desks and vending machines.