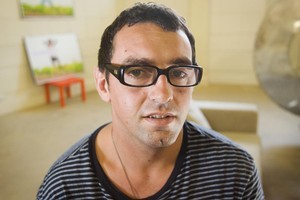 Do you travel light or heavy?
I try to pack light but I always end up super heavy with bags and bags of samples.
Cattle or first class?
I have been lucky enough to fly Business Premier on Air New Zealand a couple of times. Amazing experience !
I can't travel without ...
My iPad.
What type of suitcase do you carry?
Huge old beaten-up ones that have been jam-packed full of samples and dragged around the world.
What's always in your hand luggage?
Computers and cameras mixed up with cables and power cords.
Are you a planner or last-minute packer?
Last minute. Keep it simple.
What's the best thing you've brought back from a trip?
Orders! Oh and a bunch of hard to find second-hand records from Tokyo.
Favourite or most exciting airport to land in?
Auckland. So good to come home sometimes.
Best packing tip?
Go to Fiji ... One surfboard bag and you hardly need any clothing! Easy.
Most memorable trip?
My first trip overseas. Such a sense of discovery as you approach a new destination.
What do you do while on the plane?
I love looking out the window. I am fascinated by flying.
* Steve Dunstan is the co-founder of Huffer.