Joelle Thomson has a day of adventure in Auckland's west - all the while managing to stay clean and dry, despite the dreary weather.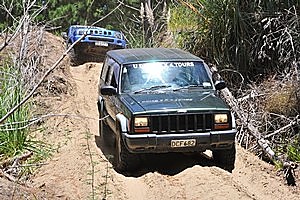 It's raining, it's pouring, the winter season is boring and you're about to tear your hair out for want of some sunshine to enjoy an outdoor activity. So, where do you go?
Charged with the task of finding an answer to the perennial winter boredom question, I headed to Auckland's wild west coast for a day trip.
It was raining, so beautiful beaches, Muriwai's wonderful gannet colony and our favourite bush walks all had to take a raincheck, so to speak.
We began our rainy day indoors with lunch at BeesOnline, which is a cafe as well as an online culinary honey store. The honey-infused menu (honeyed bacon, honey dressings, honey-roasted walnuts and honeyed desserts) had a delicious wow factor. The cafe has a cleverly designed indoor-outdoor glass wall, making it hard to tell where the indoors end and the outdoors begin.
Surrounded by native flax, manuka, kanuka and cabbage trees, the venue has a feeling of being far away from the city.
The food is outstanding; agria potatoes are used for the home-made fries, succulent, tender squid, fresh fish and walnuts that taste as though they have just been picked. And just as children tire of sitting still, they can visit the bee theatre on site.
Then we head for real adventure. Just 20 minutes' drive up the road at Woodhill Forest, 4-wheel drive hobbyist Colin Burden has his "dream job" with Trackwise 4WD, taking guided tours through mud bogs, up and down rough tracks and along Muriwai Beach.
You can follow him in your own 4-wheel drive, or borrow one of the company's, but we chose to let Colin drive so we could enjoy squealing as he passed within millimetres of unforgiving pine trees and tore through muddy waterholes. And no matter how wet it is outside, you emerge clean and dry at the end of an exhilarating ride. At the end of ours, the late afternoon winter sun shone so brightly through the forest, it seemed surreal.
It's no surprise to discover movies are made here. The only surprise is, we're just 40 minutes' drive from Auckland city and before we know it, we're safe back on the sofa at home watching a movie that could easily have been filmed in the very forest we've just been bouncing through.
Getting there: Allow 20 minutes to drive along the northwestern motorway from central Auckland to Kumeu village; gateway to West Auckland's wineries, beaches, Woodhill adventure park and a beautiful drive up State Highway 16 to Helensville and beyond.
Eat: BeesOnline Honey Centre and Cafe. Stunning food in a modern setting with out-there honey to buy from chilli to rose flavoured. 791 State Highway 16, RD3, Waimauku, phone (09) 411 7953.
Go off road: Trackwise 4WD Adventures. Twist, turn and bounce your way through 2250 acres of Woodhill Forest in a 4WD vehicle with expert driver Colin Burden. The fun begins at 70 Restall Road, Woodhill Forest, phone 0800 406 010. Adults $60, children $10, under 5s free.