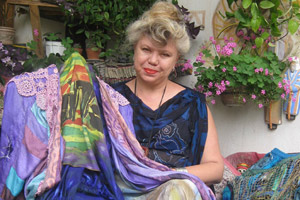 Just outside the tomb of Tamerlane, conqueror of the world, father of the victorious, lord of the auspicious conjunction, well-upholstered ladies are gathering mulberries.
It's early summer in Samarkand in Uzbekistan and the mulberry trees are in full glossy leaf and laden with plump white mulberries. Gur Emir, Tamerlane's last resting place with its interior of gilded plaster, and arabesques of blue and white that glow like a pearl, is taking second place to the luscious juicy fruit.
The trees are tall and the ladies short so they have sent their children up into the branches. While the kids shake the trees the ladies dodge about underneath with a large white sheet, rather like amateur firefighters.
Since Uzbekistan fashioned the 14th-15th century Tamerlane as its national hero, Gur Emir is drawing almost more locals than tourists - so the trees here are in demand.
In other parts of the city it's possible to simply reach up into the branches and pick one's own fruit.
However, the mulberries themselves are really only a sideshow to the main event. Once the fruit is finished the trees growing in rural areas especially will be shorn of their branches.
Tractor trailers, boots of cars, and tiny donkeys will be piled high with them to be taken home to some very hungry house guests.
Each year, the Uzbek government provides 20 grams (about four teaspoons) of silk worms to every farmer who wants them.
The worms begin their working life on a tray about one metre square and consume a modest three kilograms of leaves a day. But within few weeks the worms have developed voracious appetites and soon are taking up two or three rooms and devouring 300 kilos a day.
They are preparing to spin cocoons of silk, each of which contains a single thread of between 800 and 1200 metres in length and in doing so contributes to Uzbekistan being one of the leading producers of silk after China and India.
Uzbeks have been dyeing the raw silk in traditional designs and colours for centuries but in a small workshop created in one of Samarkand's traditional courtyard houses is an artist who has taken Uzbek silk to new heights.
Valentina Romanenko is Russian by birth but after marrying a man from Samarkand moved to Uzbekistan 30 years ago.
She had studied fabric and textiles in Kirov and - following in the footsteps of her mother, a skilled seamstress - had begun making her own clothes as a teenager.
But it wasn't until she arrived in Samarkand that she discovered silk. It was love at first sight.
"I found the beauty of silk. It is so light, so very soft, very obedient and flexible and can be dyed and painted."
She uses only natural dyes, with onion skins being one of her favourites because of the range of browns she can produce.
Among other materials utilised are walnut shells, black mulberries, pomegranates and indigo.
The results are silks in ethereal pastels and jewel-like primary colours and a kaleidoscope of colours in between. With these Valentina creates not only shirts, skirts, jackets and skirts but an array of fantastical costumes.
About 10 years ago she began to showcase these in intimate fashion shows where models emerge into her showroom draped in flowing silk dresses, padded coats, voluminous harem pants and stunning headgear.
Because she has many friends in the tourism business she was encouraged to invite visitors to the showroom. As a result Valentina's creations have found their way into wardrobes all around the world and she has staged fashion shows in Germany and the United States.
The showroom itself is lined with silk shawls and draped with silk beads, dolls and bags all designed by Valentina.
The colours seduce visitors to take a closer look, where they discover Valentina's eye for detail - beading, buttons, sequins embroidery and hand-painted art work all adorn her garments, from a simple shirt to confections of diaphanous dresses of multicoloured layers of silks.
Almost submerged in her workroom among piles of silk tassels is a surprising find - a book illustrating past entries in New Zealand's World of Wearable Art (WOW) awards.
Valentina would love to bring her silk creations to exhibit at the awards and has even got as far as contacting the Wellington organisers. But the snag is, she says, that she wants to travel with her entries, as she is so particular about how hey should be modelled. Financing such a trip is a problem.
If she does ever get the chance to come, New Zealanders will be able to see for themselves that Central Asia is creating much more than legends woven around ancient conquerors.