A South Island jaunt for budding photographers is almost too good to be true, writes Jim Eagles.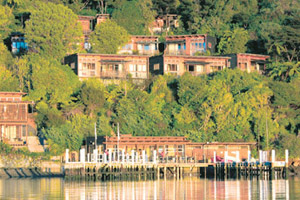 Don't tell anyone, because I can't prove it, but I suspect the people who run the Bay of Many Coves resort in the Marlborough Sounds use black magic.
Sounds silly, I know, but how else do you explain the way they got the waves, the wildlife and even the weather to perform to order for the photography retreat I just attended there.
This being the Marlborough Sounds it wasn't too surprising that on the Cougar Line boat trip out to the resort we should cruise past a pair of little blue penguins, see a seal playing around, watch a few gannets doing some spectacular dive-bombing and have a flock of cormorants do their clownish running-on-water take-off act.
But getting a school of maybe 50 bottlenose dolphins, including several calves, to perform spectacular leaps and dives just off the stern where two dozen cameras were waiting to photograph them was a bit too good to be true.
And having a seal turn up right alongside the boat, swimming in high-speed circles to round up a school of fish, then rocketing up through the middle of the circle to get a feed, sending fishing spraying in all directions and providing fantastic photo opportunities, was completely unbelievable.
As we looked through our shots, several of the group jokingly commented that the resort must have arranged to have the animals released from an aquarium somewhere. But I feared darker forces were at work.
The wildlife activity didn't stop there either. The resort itself is in an isolated corner of Queen Charlotte Sound with three restaurants near the shore - coffee shop, breakfast-lunch cafe and fine dining restaurant - and a dozen or so individual apartments spread up the steep hillside surrounded by bush teeming with birds.
Fancy a photo of a fine fat kereru? You are almost sure to find one sitting sleepily in the sun on a tree beside the path. Keen on an action shot? How about a couple of bellbirds chasing each other round the balcony of your apartment. Prefer something a bit more mystical? A sacred kingfisher resting on a wharf pile should fit the bill.
The only disappointment was that we kept being warned not to put anything down or the wekas would nick it, so I kept putting things down in the hope of setting up an amusing photo; and I didn't see one.
But there was a colony of spotted shags sporting their impressive breeding plumage - green faces and westie haircuts - or with chicks to feed. And any time of the day there were likely to be gannets and shags, gulls and terns zooming across the water to provide a challenging photo opportunity.
Then there was the weather. On Friday morning the forecast for the Sounds was for wind and rain to arrive on Saturday. That's certainly what happened in Auckland in my absence - doesn't it add spice to a holiday when the folks at home get rained on? - but the skies above the Bay of Many Coves stayed resolutely blue.
But of course bright sunshine on its own might have been a bit boring so, instead, as we arrived the sounds were covered with a spectacular fog which gradually burned away as the day advanced, and throughout the weekend patches of morning and evening mist drifted around to add interest to the photos.
As if that wasn't enough, two very photogenic members of the resort staff and the even more photogenic resident dog Merlot were available for us to practise portrait photography.
The food produced in the restaurant was not only delicious - an eight-course degustation dinner one night was as good as I've had anywhere: the roasted monkfish was superb - but also looked good enough to have the cameras snapping again between courses.
As an environment for a bunch of aspiring snappers to practise their skills and try out new ideas, it's hard to imagine anything better and we responded by taking hundreds of pictures.
One woman was up at 5am to get photos of the mirror-like waters of the sounds in the misty early morning light. Another was out around midnight to take advantage of the clear skies to take long-exposure shots showing the movement of the stars.
Our infectiously enthusiastic tutor, Simon Woolf, added interest by distributing all sorts of red objects around - a Santa suit, balloons on the wharf, scarves, socks - because he believes an aggressive colour like red adds value to a picture.
Add to all that some great talks and audio-video presentations on aspects of photography and it's hardly surprising that lots of great photos were taken.
The only disappointment is that none of the great photos were taken by me ... like I said, I suspect black magic was at work.
CHECKLIST
Further information: Bay of Many Coves is a 30-minute ferry ride from Picton. For prices and details of special weekends see bayofmanycoves.co.nz or ring 0800 5799 771.
Jim Eagles went to the course as guest of Bay of Many Coves Resort.