David Leggat stoutly puts his readers first, his girth second.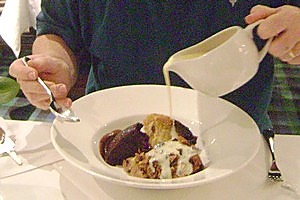 Sometimes you have to sacrifice for the greater good. Such an occasion happened to me deep in England's picturesque Cotswolds.
The Three Ways House hotel in Mickleton is an impressively restored building. It is also an important location in English culinary history. This is where the Pudding Club was formed 25 years ago to "prevent the demise of the great British pudding".
Its rooms have names such as the Chocolate Suite, the Syrup Sponge room and the Spotted Dick and Custard room.
Founders Keith and Jean Turner started it as "a bit of a joke" but the club expanded - as did members' waistlines - into a rather more serious business at other hotels.
At the Three Ways House, club "meetings" are held each Friday, involving 75 members who vote for "pudding of the night", listen to speeches outlining Pudding Club customs and sometimes dance, or more accurately, waddle.
The menu starts with a smallish main meal before what may be termed the "pieces de resistance". Diners are offered a choice of seven - yes seven - puddings. It is not required that all seven must be sampled but it is encouraged.
Favourites? Jam roly poly, treacle sponge, spicy fruit, bread and butter, steamed chocolate, spotted dick and the splendid English summer pudding.
On our night there, the menu included a selection of three puddings on one plate. Smaller options were available but, in the interests of doing the right thing by the club, the hotel and Travel readers, one went for the treble.
The plate groaned under portions of steamed pudding with blackcurrant jam, squishy chocolate pudding with nuts and a fruity spotted dick accompanied by ... a large jug of custard.
The verdict? Superb, but unfinishable. A morsel of the chocolate offering was left when the spoon finally dropped for fear of a Monty Pythonesque explosion.
The cost of a Pudding Club night is £33 ($72) a head. Bring a sense of fun, have a light lunch ... and wear loose clothing.
CHECKLIST
Getting there: Air New Zealand has daily flights to London.
Getting around: For information about travelling the UK by train see britrail.com.
Further information: See the Pudding Club's website or visitbritain.co.nz.
David Leggat ate up large with help from Air NZ and Visit Britain.