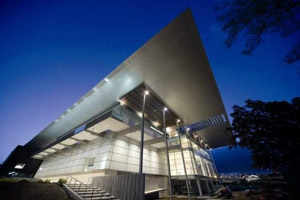 Book a bed for the night online at LivingSpace and you can stay in Christchurch, Dunedin, or Invercargill from $59. Available for stays until October 31. The accommodation is contemporary, apartment-style rooms in central-city locations.
Contact: livingspace.net
Under $690
Sashay past the gowns of Valentino, on show at the Gallery of Modern Art in Brisbane until mid-November. The House of Valentino exhibition includes 100 ensembles - some worn by Nicole Kidman, Cate Blanchett, Elizabeth Taylor and Jacqueline Kennedy Onassis.
Return airfares from Auckland to Brisbane and two nights' accommodation are available from $689 each twin-share. Book by August 22. Travel by November 14.
Travel from Wellington starts at $719 each and, from Christchurch, $645.
Contact: Flight Centre, 0800 427 555
On the web: flightcentre.co.nz
Under $700
Five nights at Samoa's Insel Fehmarn Hotel with daily tropical breakfasts and return airfares from Auckland to Samoa are priced from $699, each twin-share. Or, upgrade to the four-star Aggie Grey's Lagoon Beach Resort and Spa and pay from $1149 each, twin-share.
Book by close of business tomorrow. Travel between October 13 and November 28 or between February 1 and March 31.
Contact: Air New Zealand Holidays, 0800 737 000
On the web: airnz.co.nz
Under $2010
Tour pyramids, visit the Sphinx, take a felucca ride on the Nile, visit temples and dine with a local family in a Nubian village. These are just a few of the highlights during a nine-day Egyptian tour, priced from $2006 each. Reduced from $2359 for departure on September 25 from Cairo, the tour accommodation is in Comfort hotels with one night on a sleeper train. Majority of meals are included.
Contact: GAP Adventures, 0800 333 307
On the web: gapadventures.co.nz and use the Trip Code, DPEAD
Under $2800
A 15-day tour in Vietnam, highlighting the main sights, includes days when tour members can explore on their own. Usually priced from $3290 each, twin-share, the tour has been discounted to $2790. Book by August 20. Departs from Hanoi on August 28 or on set dates through September and October. Flights from New Zealand are additional.
Contact: House of Travel, 0800 838 747
On the web: houseoftravel.co.nz