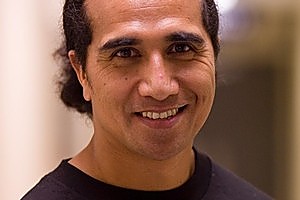 Do you travel light or heavy?
Light. Coming home with less than you left with is a good sign that many friends were made along the way.
Cattle or first class?
Cattle. When your eyes are closed and fast asleep what's the difference?
I can't travel without ...
My laptop to Skype the family at home.
What type of suitcase to you carry?
Backpack with wheels - it adds a taste of veteran sophistication to the "hit the trail" mentality.
What's always in your hand luggage?
Snacks like fruit and protein bars.
Are you a planner or last minute packer?
Last minute. Enjoy every moment till the end.
What's the best thing you've brought back from a trip?
Gifts given to me that I was able to palm off to the family back home.
Favourite or most exciting airport to land in?
Nothing beats Auckland - I know where my home is and that is where my heart is.
Best packing tip?
Pack in categories rather than a bag full of clothes - casual, day, formal, sport ..
Most memorable trip?
Shooting a doco in Japan - we hustled for every shot and ended up with the experience of a lifetime.
What do you do while on the plane?
Endure and enjoy.
Stan Wolfgramm is the creative director and show producer for the Westfield Style Pasifika awards show on September 3. Tickets from ticketmaster.co.nz.