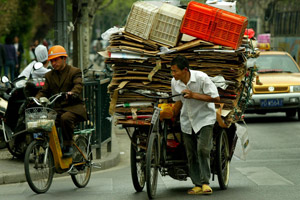 You might have thought the tough economic times would see Kiwis staying closer to home, but the latest figures from Statistics New Zealand show we're soaring even further afield than usual.
For the year to the end of June the number of Kiwis making short-term departures overseas - which covers holidays, family get togethers and business trips - rose by 2.5 per cent or 25,000 trips and reached a total of just under 2 million (that's just about one trip for every two people).
But the countries in our backyard, Oceania, mostly missed out on that extra tourist revenue. The number of us going to Australia - by far our biggest destination, the place we head for half the time we go overseas - rose by significantly less than the 2.5 per cent average.
Fiji, our second biggest destination, saw New Zealand visitors rise by 7 per cent, but that's probably due to the fluctuating scene as the military Government does its best to frighten us away and the tourist industry tries to lure us back with cheap offers.
The Cook Islands, our sixth most popular destination, missed out on its share of the increase. And the number going to Vanuatu actually fell.
The only really big winner among the island countries was New Caledonia where Kiwi visitor numbers jumped by nearly 20 per cent.
So if we're not heading for sun, sand and palm trees what are we looking for? Football and wild animals is obviously one choice. The number heading for Africa rose 13 per cent, thanks largely the Football World Cup.
The mix of exotic culture and beautiful beaches offered by Bali is also looking attractive again. New Zealanders heading for Indonesia rose by 26 per cent during the year.
In fact Asia generally seems to have gained in appeal. More than 60,000 of us have gone to China in the past 12 months, a rise of 7 per cent, making it our fifth most popular destination. The Philippines and Taiwan also recorded big increases, and India continued its solid rise as a tourist destination.
Travel to the US was pretty static - though it is still our third most popular destination - and Canada saw its share of the Kiwi market fall.
Europe, however, was a mixed bag. There was a dramatic 18 per cent jump in numbers going to Germany and a 7 per cent rise to Italy. But fewer of us went to France, and Britain - our fourth most popular destination - lost a bit of market share.
I'm not quite sure what the pattern is there. But one thing is certain. The recession hasn't clipped the wings of Kiwi travellers.