Take the best of the local waters in the winter. Finish off with a fish'n'chip picnic and a good night's sleep.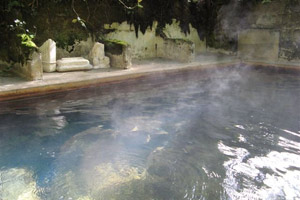 1. Waiwera Thermal Resort and Spa, 21 Waiwera Rd, Waiwera, ph 0800 WAIWERA
With 22 pools, eight water slides, movies, adult-only pools and plenty of picnic spots, this resort is great for the whole family. Add a spa and wellness centre plus accommodation packages, and the weekend is sorted. Ask about the concession card for Rodney residents.
2. Aquatic Park, Parakai Springs, 150 Parkhurst Road, Parakai, ph (09) 420 8998
Landscaped gardens and waterfalls make Parakai Springs close to nature (and naturists can do their thing on the first and third Fridays of each month). There are water slides and movies too. For those who like their pools quieter, down the road is Palm Springs, 155 Parkhurst Rd, ph (09) 420 8321 and Club Oasis, 167 Parkhurst Rd, ph (09) 427 8182.
3. Miranda Hot Springs, Front Miranda Rd, Waitakaruru, ph (07) 867 3187
A favourite since pre-European times, Miranda Hot Springs are just off State Highway 2, only 45 minutes drive from Auckland. There are three pools: a children's pool, a main pool (the largest in the southern hemisphere - thoughtfully, an aqua-lift provides accessible entry), and an adults-only pool with 60s retro charm. There are also four private spa pools. Great fish'n'chips at Kaiaua are a mere skip up the road, and the nearby Miranda Holiday Park has a reputation for spotless cabins and its own landscaped pool.
4. Te Aroha Mineral Spas and Leisure Pools, Te Aroha Hot Springs Domain, Boundary St, Te Aroha, ph (07) 884 0717
Either luxuriate in a soda spa pool, drink the waters at the world's only hot soda water geyser or frolic in the outdoor leisure pools at these charmingly restored Victorian buildings at the base of haunting Mt Te Aroha. Stay up the road in the farm-like Te Aroha Holiday Park and Hot Pools (217 Stanley Rd, Te Aroha, freephone (07) 884 9567) which has a fern-lined rock pool. Dogs welcome.
5. Opal Hot Springs and Holiday Park, Okauia Springs Rd, Matamata, ph 0800 800 198
World famous in Matamata, this motel has a large outdoor pool as well as several private pools (including one in a bush/river setting) in breathtaking Waikato farmland five minutes from town. An 18-hole golf course is right next door, or you can catch the bus tour from the town's Information Centre to the Lord of the Rings' Hobbiton movie set (see 17 of the original 37 hobbit holes!) and farm tour. See hobbitontours.com for more information.