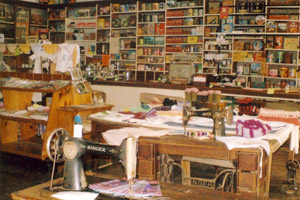 A cloud of choking dust flies up as the 120-year-old wooden doors crash open, revealing a crumbling brick dynamite store. The dingy interior is empty except for dust-shrouded, decaying empty boxes marked "blasting powder".
This was not George Shalfoon's secret arsenal, nor was it a business venture fraught with danger. George was an astute grocer and general merchant with an eye for the main chance. Obtaining a dynamite licence and building a hazardous goods store was a smart move for a pioneer Opotiki grocer when the road makers began pushing a route to Gisborne.
Manager Sue Wilson is guiding me through the maze of interconnected buildings that make up the Shalfoon and Francis general store museum in Church St, Opotiki. George, a much-loved local identity, was manning the vast kauri slab counters and ringing up the antique cash register until he retired in 2001 at the age of83.
Wilson leads me into the old hardware store, moving aside one of the 16 ancient delivery bikes.
Full sets of new horseshoes are hanging on the wall; a forlorn token of remembrance for the stalwart Clydesdale working horses that have long since passed on. The bluestone sharpening blocks last felt the scrape of a knife blade half a lifetime ago.
"Every day we find something new and exciting," Wilson says as we poke and prod further into the huge store.
A cast iron coal range stands proudly in a dark corner next to an old offal wheelbarrow. There's no shortage of crosscut saw blades, pit saw handles, hand-forged bridge spikes, kerosene wick lamps and a classic 1937 Ford V8 delivery van sitting in the darkest recess, where it rusts in peace.
I can't imagine buying sulphur, copper sulphate and red lead powder in bulk, but George's customers once did. Lengths of rope were pulled out of holes in the 6m-long kauri slab counters and cut to measure.
This store is nothing less than an open window on the early 20th century. It's one of the few historic country stores still in existence.
But I have scratched only the surface, as Wilson's piece de resistance is the adjoining main grocery store, which still has many items for sale; home-made lollies, biscuits, vegetables, fruit and long, white chef's aprons made by a local lady who sews them on a Singer treadle machine in the store.
"There's a constant demand for aprons," Wilson says, "and a visiting Lonely Planet journalist bought two teapot cosies, saying that the museum was a 'must see' attraction."
Customer records, which George maintained meticulously, line the shelves and people come in and read their grandmother's record of purchases in the family account book. I'm intrigued by the faded black and white photos of the owners in white grocery smocks. Fashion mannequins pose in the display window sporting 1930s hairstyles and little else. Wooden filing cabinets carry the weight of sheaves of records. Teapots, tobacco tins, an axe and china doll, form a disparate jumble around a well-used Imperial typewriter in a busy corner office.
Everything in this wonderfully nostalgic grocery store is exactly as it was, enshrined as a perfect slice of early New Zealand life. It is preserved in "all its flooring glory", Wilson says, referring to the humped and sloping "rollercoaster" matai floors, a legacy of the 1911 floods. George wanted people to remember the floods every time the floors squeaked.
The Shalfoon story began when three brothers arrived from Lebanon in the 1890s and converted an old house into a trading post. At their back door was a small wharf - the only access to the township of Opotiki. The business thrived and the family bought two launches to run passengers and freight as far as Hicks Bay.
In its heyday, about 1911, Opotiki was the largest town in the Bay of Plenty. Boats came up river to dock by Shalfoon's store and goods were unloaded. The entrepreneurial brothers even took a horse and cart around the coast when the tide was out, selling their wares to Maori settlements.
George Shalfoon and his brother-in-law Edward Francis took over the store in 1937. They bought their Ford V8 pickup truck, which gave good service doing local deliveries right up to the end of the millennium.
The Opotiki Heritage and Agricultural Society, a charitable trust, operates the Opotiki Museum at 123 Church St and the old Shalfoon and Francis grocery store at 129 Church St. Both museums are being developed into a complex that will continue to reflect early life in Opotiki.
I leave Shalfoon's treasure trove with a wealth of memories and flashbacks to my youth. Those ubiquitous biscuit tins, glass lolly jars, liquorice straps, ringing tills and hand-crank telephones, triggered a flood of recollection.
Wilson has the last word: "My reward is to see the broad smile suffuse a visitor's face when they first enter the shop - it's a nostalgic journey for everyone and a wonderful experience."
FACT FILE
The Historic Places Trust has registered the grocery store and museum as a nationally significant heritage icon. The store is open from 10am to 4pm weekdays and 10am to 2pm Saturdays.