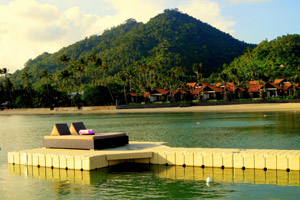 I don't usually like heights. I was reminded of this a couple of times during my time in Koh Samui.
First, when I had to clamber on to an apparently tame elephant for a jungle trek; the loosely tethered, bucket-like seat shifting with every tentative movement. Second, when I was about 40m up a very tall tree with a very thin trunk in what felt like a very strong wind.
The latter was part of an adventure tourism experience built around a long series of flying foxes - like the one in your local park, but on steroids. I enjoyed the down bit much more than the up bit and the standing-around-on-the-narrow-wooden-ledge bit, particularly because the Israeli chaps tagging along with our party - shirt-free and perhaps no strangers to steroids themselves - seemed hell-bent on making anyone not having as much fun as them feel pathetic.
But there are certain heights I like a lot - the heights of luxury and hospitality among them. Fortunately Koh Samui delivers on both counts - and then some.
My base was the Langham Place Samui at Lamai Beach - a luxurious retreat from the hustle and bustle of the rapidly developing island.
Built at a cost of about $35 million and opened last December, the resort can handle around 150 guests in 77 villas and suites.
Managed by the ever-expanding Langham chain (properties in Bangkok, Phuket and India are among those on the way) for its Thai owner, the buildings blend elements of Thai, Chinese and Balinese architecture. Guests arrive through an octagonal courtyard - designed by the owner's feng-shui master to remove bad omens - before crossing a walkway of waterfalls to an elevated lobby built around a shallow pool.
It's here the nightly Change of the Day ceremony occurs, a signature Langham event. Lanterns are released high into the sky to mark the switch from day to night and work-to-play mode. It's a romantic moment.
The resort has all the amenities you'd expect - and some you might not. There's a pool, restaurant and 24-hour gym, but it's the extras that elevate the Langham to a class above your average resort.
A DJ plays proper house music at the poolside bar every afternoon and the Cha restaurant caters for borderless dining - romantic dinners in private areas around the grounds and on the jetty jutting 220m into the lagoon. There's also the world-class Chuan Spa, offering treatments based on the principles of traditional Thai and Chinese medicine. Free activities include Thai boxing, yoga and trimaran sailing.
There are five kinds of rooms, including secluded beachfront and garden villas with pools, and suites clustered around communal pools that can be reserved for family groups or pool parties. Gadgets include LCD TVs, DVD players and iPod docks. All rooms are spacious, with open-air bathrooms.
It's a funky and chic resort that feels more boutique than chain, ideal for couples seeking a romantic getaway.
The Langham is about 25 minutes from the island's beautiful airport. There are few international flights, so most Kiwis will transfer from Bangkok, less than an hour's flight away, and New Zealand passport holders won't need a visa in advance.
The resort is at the northern end of Lamai beach. The area is among the quieter of Koh Samui's tourist centres, although there's still plenty of activities on offer, from street markets to bars with competing sound systems.
The undisputed champion of hustle and bustle is Chaweng, some 6km of shopping, restaurants and nightlife along a strip of busy beach.
The markets are a dreamland for bargain-hunters unconcerned by bootleg gear. There's an array of culinary choices, although New Zealand is arguably as well-served for authentic Thai eateries. We ate a fine dinner on the sand at a restaurant in the Fisherman's Village district, a memorable experience under the stars.
There are bars and clubs aplenty along Chaweng's main drag, excuse the pun. If you've ever wanted to play Connect Four with a ladyboy, this is your chance.
The 10-minute drive between Lamai and Chaweng indicates that mass tourism is coming to Koh Samui, if it's not there already. It's come a long way since the days when it was a relatively undiscovered hippy haven.
The Langham is among the five-star resorts jostling for international attention. Britain and mainland Europe are the strongest markets outside Asia, with plenty interest from Russia and North America.
Scooters are an easy and cheap way to see the island, although less confident riders may need some time to get used to some of the more interesting driving behaviour. Don't forget to wear a helmet. Chiselled Europeans might look good with their flowing locks reflected in their aviators, but they won't be so clever in hospital.
It takes about 2 hours to do a circuit of the island and it's a great way to get off the beaten track. The Khao Yai viewpoint (635m) reveals a largely unspoilt jungle interior. It's a reminder of the time when the island's economy was built around subsistence agriculture and fishing.
Essentially, the further you get from Chaweng, the more likely you are to see the undeveloped Koh Samui. But there is awareness of the need to protect the island.
It will be interesting to see how Samui - as the locals call it - copes with its burgeoning appeal. It's likely budget-conscious travellers and backpackers will move to other, smaller islands in the Gulf of Thailand as development continues.
That shouldn't detract from its reputation (some might believe it can only add to it). Maximum temperatures average between 29C and 32C year-round. The beaches are clean and the water warm. It's a great destination, perfect for couples and families who want a taste of Thailand without compromising on the mod-cons.
Chris Reed was a guest of Langham Hotels.