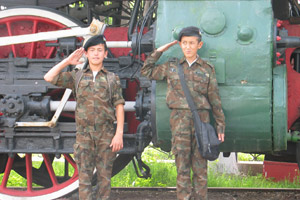 Tashkent, the capital of Uzbekistan is leafy and lush in May. Roses bloom in the tree-lined boulevards, in parks and private gardens.
There's a joke that does the rounds at that time of year.
"Tashkent has 30,000 roses and under each rose is a policeman."
There do seem to be a lot of uniforms around although under-employment seems more the issue than a need for a huge force to combat a Central Asian crime wave.
Many of Tashkent's streets are built on an impressively generous scale - a legacy of the Soviet era which also left the city with drab ranks of four-storey apartment buildings that are now in serious decay.
Many visitors to Uzbekistan barely glance at Tashkent on their way to the iconic Silk Road cities of Samarkand and Bukhara, which is a shame because the capital merits a longer stay.
And for me, the place to begin a visit to Tashkent has to be the Tashkent Palace hotel. Once a Le Meridien hotel, it has graceful proportions and superb location, sitting as it does on one side of a tree-filled square opposite the Alisher Navoi Opera and Ballet Theatre.
The theatre was built in the Stalin era using Japanese prisoners of war. There's a full programme of productions here - I've seen a mind-numbing Uzbek opera (the highlight being a character portraying Alexander the Great who wore a enormous lion stuffed toy over one shoulder to denote kingship) and an excellent production of the ballet Raymonda. This was punctuated by locals in the audience bursting into wild applause and cheering - during, and at the completion of - any particularly challenging balletic manoeuvres.
A fountain plays in the centre of the square in front of the theatre and an al fresco bar operates nearby over the warmer months. This is the only reminder of the time when this area was known as the Drunken Bazaar.
On another side of the square is a Soviet-style Tsum department store that sells everything from matryoshka dolls to hair straighteners.
The hotel has seen it all. When I first stayed there some years back the lobby seem to be permanently full of American servicemen heading to or from Afghanistan; the following year it was Americans again, but this time contractors engaged in "reconstruction" in the same country.
Providing a diversion for all of us were the waitresses in the restaurant and the bar, whose uniform included breathtakingly short skirts. A fellow traveller, after carefully observing these young ladies sailing among the breakfasting guests remarked "I'd say not so much skirts as pelmets".
Today, although the soldiers, the contractors and the short skirts have gone, the hotel retains its charm for me.
Tashkent itself also has more to offer. One of my favourite haunts is the National Railway Museum. It's a little run down but the Soviet-era locomotives (there are 13 steam engines and about 20 electric and diesel engines) were built to last and seem resistant to decay.
If the custodian, with her gleaming gold teeth, takes a fancy to you, she'll even get a small working mini diesel engine and its observation car in action to take you through the museum past rickety carriages, gargantuan pieces of track laying equipment, a snow plough and a plethora of other rolling stock.
Most impressive of all is the pride of the Soviet steam stable - a P36 (for railway geeks) that is considered to be the best, most powerful steam locomotive used for passenger trains ever made.
Known as The Victory, it weighs 178 tonnes and dwarfs mere human beings as it is more than five metres tall with its largest wheels standing 1.85m high. It could reach speeds of up to 125kph.
A less off-beat but equally enthralling place is the Chorsu Bazaar, Uzbekistan's largest and most popular market.
Chorsu means "four ways" a name that harks back to the days of caravans and traders along the silk route. During May its fresh produce section was heaped with mounds of tomatoes, strawberries, cucumbers and piles of fresh herbs and in the meat section there were hunks of mutton, goats' heads and quivering trays of testicles and kidneys.
But there are more pleasant aromas to be had in the spice market and usually plenty of tastings of walnuts, almonds and dried fruit as well.
Gigantic and luridly-coloured stuffed toys (now I know where the theatre's prop manager found the opera lion), twig brooms, locally-produced silk and a full range of housewares from rolling pins to Chinese-made dinner sets can be found here. As can Barf soap powder.
Perhaps the most quintessentially Uzbek purchase though is the glossy rounds of unleavened bread known as non. Non is revered in Uzbezistan and must never be thrown away or placed upside down. It always seems appropriate to me that it is transported to Chorsu in old prams and wrapped up in blankets to keep it warm, cosseted like a new baby.
Unlike most babies and wines however, non does not improve with age - it is best eaten straight from the oven ... fresh from the pram!