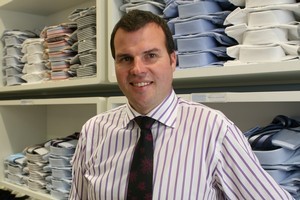 Do you travel light or heavy?
I'm carrying about 20kg too many at the moment so I guess that makes me overweight.
Cattle or first class?
Air New Zealand Premium Economy on long haul and exit rows when I can get them in short flights - I'm 195cm tall.
I can't travel without ...
I once shared a plane with the All Blacks to Johannesburg. They all swore by the homeopathic No Jet Lag tablets. I'm converted.
What type of suitcase do you carry?
A multi-directional 4-wheel hard shell.
What's always in your hand luggage?
Duty free Gordon's gin.
Are you a planner or last-minute packer?
Last-minute.
What's the best thing you've brought back from a trip?
A supply agreement that enabled me to start 3 Wise Men.
Favourite or most exciting airport to land in?
Kai Tak, Hong Kong - one hell of a welcome.
Or Wellington in a gale force southerly.
Best packing tip?
Roll slightly damp business shirts carefully and hang on arrival. Avoid the hotel iron used by the last guy to make a toasted sandwich.
Most memorable trip?
Bali for my mother's 60th birthday. Refused entry to the plane due to a de-laminating passport so I had to get an emergency passport and go the next day.
* Richard Miles is one of the three founders of shirt company 3 Wise Men.