Doug Sherring fulfils a lifelong ambition on Wanaka's pristine backcountry slopes.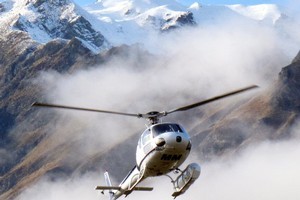 It's the crack of dawn in Wanaka but we're up, waiting for the call. Will the weather co-operate?
Finally, the phone rings: "Hi Doug, its Harris Mountains Heli-Ski. We're good to go!"
Yes! My lifelong dream of snowboarding through an untouched alpine wilderness is coming true.
After a short trip by minibus from the hotel, we reach the staging area in the beautiful Matukituki Valley, where we meet our helicopter pilot, ski guide and the rest of our heli-ski group.
That's quickly followed by a comprehensive safety briefing, which covers general backcountry and helicopter safety before moving on to avalanche procedure. That's a little sobering. The key advice is "don't panic in an avalanche", which I suspect is easier said than done. Just the word avalanche is enough to make anyone a little shaky in their snowboots.
Just to make it that little bit more real, we're then issued with avalanche rescue transceivers and we all immediately, very keenly, check to see if they're working.
Our cheery guide introduces himself so we know who to holler for should we find ourselves pummelled by mountains of falling snow.
"I'm Whitney ... just remember Whitney Houston!" Excellent - I picture myself, covered from head to toe in snow, with the lyrics didn't we almost have it all echoing in my head.
But before we have time to think too much more about the possibility of impending avalanche our chopper swoops down in a swirl of wind and dust and we're quickly rising above the lake.
The scenery is simply spectacular. Peaks rise and fall until there, right in front of us is a pristine mountain covered in fresh powder snow like a carpet of icecream. We're at the Motatapu in the South Harris Mountains, tucked between Wanaka and the Shotover River.
In a flurry of activity, we're out the chopper and I'm soon following Whitney down the mountain on the first run.
We cover three in the course of the afternoon - the Tutu Much, No Regrets and Margnificant. On this first run excitement gets the better of all of us and whoops of delight echo in the air all the way down.
Boarding on fresh powder makes you feel like you're floating - until you stop. The trick is to make sure you stop on a slope, but I foolishly come to a halt on the flat and instantly sink up to my knees in soft snow. Bugger.
Still after some wriggling around I eventually get myself free of my board and trudge off to find a steeper spot.
No harm done, I think, and I'm off again. Then at the top of the next run Whitney spots a strap from my binding, lying in the snow. Oh no! Have I come all this way only to have my day cut short by a missing screw?
Quick as anything, Whitney pulls a dinner fork out of his backpack and fashions one of the prongs into a makeshift fastener. He may be American but that Whitney's sure picked up the can-do "number eight fencing wire" Kiwi attitude.
And we're off again, carving down the mountain, with nothing but acres of untouched snow in view and an afternoon of more like this ahead of us - and a fork tyne holding me together. That's snowboarding - Kiwi-style.
IF YOU GO
Where to eat:
* Lone Star Restaurant and Bar, 50 Cardrona Valley Rd.
* Amigos Cafe Mexican, corner Ardmore and Little streets.
* Relishes Cafe, 99 Ardmore St.
* Cardrona Hotel and Restaurant, Crown Range Rd, Cardrona. Enjoy a mulled wine and the log fire (wood supplied by Shania Twain) after a day on Cardrona's slopes.
Where to ski:
Heli-ski: Harris Mountain Heli-skiing offers a range of packages for back-country skiing and snowboarding around Queenstown, Wanaka and Mt Cook.
Treble Cone: The South Island's largest ski area, Treble Cone has much to offer for the advanced or intermediate skier - and the views of Lake Wanaka from the field are breathtaking.
Cardrona Alpine Resort: A high mountain renowned for dry natural snow and wide open slopes. It's a popular playground for freestyle skiers and boarders, with a range of pipes and terrain features, and great for families thanks to its extensive kids' facilities.
Snow Farm: 50km of internationally groomed trails for cross country or Nordic skiing. Also boasts accommodation on the field.
Snow Park: A freestyle terrain park for the more adventurous skier or boarder. Also open nights on Tuesdays, Fridays and Saturdays.
Where to stay: Te Wanaka Lodge is a contemporary, reasonably priced ski lodge in the heart of Wanaka.
Getting around: Car and campervan rentals are available from Jucy Rentals.
Doug Sherring's media visit was hosted by Lake Wanaka Tourism.