Susan Buckland tries a tasty slice of village life on an Italian island coveted by Genoans, Catalans and now tourists.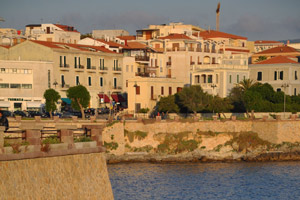 Masino was a short man but he stood tall. His hair helped. It swept back from his forehead in cresting waves that crowned a cheerful face. Cheerful, that is, until I confided my plans to explore his island home of Sardinia.
"You cannot see all of Sardinia in just five days," exclaimed Masino, his arms and hands upturned to emphasise the absurdity of such an idea. I had met him and his wife, Graziella at Pisa Airport and mooted the five-day plan as we boarded the same flight to Alghero in Sardinia.
I could be certain of one thing, Masino said with a suspended shoulder shrug. In five days Sardinia would go by in a blur. The bedazzling Emerald Coast. The mountainous interior where bandits used to hide out and where farmers still keep a wary eye on their flock. The lively capital of Cagliari. The fishing villages.
With just five days it would be much better to get to know one place, said Masino. An attractive place. His place. And suddenly his gestures became more confiding and his eyes danced as he described Alghero, the historic seaside town on Sardinia's northwest coast where he was born and from which wild horses could not drag him away.
Mainland Italians liked coming to Alghero, he said.
"We hang on to our character. Inside our old city walls you still see Catalan street names" said Masino in reference to Alghero's 15th century colonisers.
Like a conductor who brings his orchestra to a triumphant conclusion, Masino gestured me out of any further thought of galloping around Sardinia in five days. By the end of the night flight that had carried us from Pisa over an inky Mediterranean to Sardinia, I was looking forward to scratching the surface of Alghero.
The route to the hotel skirted a wide arc of beach called Lungo Mare and Masino pointed out landmarks. The port from where boats leave to explore Neptune's Grotto, caves with enchanting limestone formations. The city walls built by Catalan settlers on foundations laid centuries earlier by Genoans. The promenade above the walls where restaurants serve sizzling fish platters and Sardinian specialties. And beckoning beyond, the shop-lined alleys of the old town that buzz through midnight during Alghero's sultry summer.
"Anything you need, just ask," beamed Masino when we pulled up at the hotel. Even a haircut. Masino was a hairdresser and proud father of four hairdressing children, two of whom had succumbed to wild horses and been dragged offshore. But Masino could rely on the other two, as well as his hairdressing clients, to replenish his grasp of goings-on in Alghero. He liked to keep tabs on visitors, too, in case they needed a haircut.
"You do have time for one day trip from Alghero" said Masino. "I recommend Castel Sardo." And with this gracious concession to my sojourn in his beloved town he and Graziella drove back around the bay towards the shimmering lights of the town.
Land and water merged like a mirage and a small night market huddled in the moonlight.
My July arrival coincided with Sardinia's long summer and the soft night was replaced next morning by piercing blue sky and shining sea. The temperature was on its way to a predicted high of 33C. Bathers were filling the sands of Lungo Mare and sandwiching into the rocky crevices. Later when the heat reached its most intense, only unsuspecting tourists were staggering around in the midday sun. The cognoscenti had begun their ritual retreat. Attuned to the Mediterranean summer they disappeared for lunch and a siesta behind closed shutters. Come late afternoon they would reappear and shops and restaurants would spring back to life.
Within a day I was slipping into local habits, shopping for fresh produce in the markets after a late breakfast at Ciro, a favourite with the locals. In time-honoured tradition many breakfasted on their feet at the bar. Nubile signorinas bagged corner tables - all the better for batting eyelids at baristas. You could cut the chemical interchange with a knife, although most of the customers continued their breakfast as if it were all part of Ciro's daily theatre.
A woman who introduced herself as Erika Limbacher joined my front row table. She had coffee every morning at Ciro. Forty years earlier she had arrived from Germany to study Alghero's dialect with its Catalan infusion. Italian has been the official language of Sardinia since 1720 when the House of Savoy wrested control from Spain. But Algherese Catalan, which is incomprehensible to off-shore Italians, is still spoken.
"Within Italy, Sardinians have regional autonomy and Alghero people, like many island dwellers, cherish their independence," said Erika. Since the death of her Sardinian husband she has run two guest houses in the historic heart of Alghero where mosaic church domes, wrought iron balconies and monuments as well as street names, hark of their Spanish heritage.
"Do you like figs?" Erika suddenly asked. "My trees are bursting with fruit." And next morning she turned up at Ciro with a tray of plump green and purple specimens, including an antique variety that was no longer grown commercially but had the most flavour,
"Try one!" The luscious sweetness hit home at first bite. "They are for you" she said placing the tray in my hands.
Her kindness reminded me of the generous-spirited Masino and Graziella and their advice to visit the weekly market by Lungo Mare where stalls are laden with produce from all over Sardinia: wines, cured meats, olives oil, tomatoes ripened by the Sardinian sun, fat peaches and other seasonal fruit and vegetables, freshly baked bread, wheels of goats' and ewe cheese.
Masino had also rattled off the names of restaurants where fresh seasonal produce - instead of the ubiquitous pizza - formed the basis of most dishes. He and Graziella frequented family-owned trattorie on the periphery of the tourist-packed city centre. Places where local dishes such the delicious fish-filled risotto, Alghero's version of Spanish paella can be enjoyed for modest prices.
For ambience, however, it was hard to resist the al fresco tables of Movida and Angedras, From their prime positions on the old city walls diners look out over the colourful fishing port to the horizon. They linger over gnocchi with clams and caviar, lobster a la Alghero, or culurgiones, a Sardinian pasta dish with spinach, ricotta and pecora, a cheese produced by Sardinian sheep that feed on pungent herbs. Corks pop off bottles of vermentino, Sardinia's distinctive white wine. And cannonau, the island's full bodied red. Much later, glasses of mirto, a seductive Sardinian digestive, round off the night.
Late nights in Alghero led to lazy afternoons which I spent on the beach across the road from the hotel. "You like beaches? Go to Stintino," suggested a stout man in disturbingly small speedos. Stintino was duly incorporated into the day trip to Masino's recommendation of Castel Sardo further round the coast.
Stintino's white sand beach of La Pelosa lay a half-hour drive north of Alghero. By mid-morning it was crawling with people. Beach gear vendors from Africa wearing multiple layers of their wares patiently plied their trade among sprawling bodies. When the heat reached its blistering height the vendors must have felt like sinking into in the lagoon-like waters of La Pelosa. September would be a better time to visit Stintino, when temperatures have mellowed and the crowds have thinned.
Castel Sardo, our afternoon destination, lay a further 40 minute drive northeast of Stintino. First sight of the town had us reaching for cameras. Castel Sardo tumbles from a 12th century castle down to a horseshoe harbour. Built by Genoa's Doria family and renamed Castel Aragon after the Spanish conquest in 1448, the castle has sweeping views of land and sea. On tiny streets threading through the hilltop town, Castel Sardo's wicker work craftswomen sell their wares. After buying a basket from one who filled the doorway with her amiable corpulence, I scanned the coral jewellery shops.
So much coral is sold in Castel Sardo and in Alghero you wonder how much is left in the sea. And how much of it is the genuine article. For reassurance, it is advisable to buy from shops where the artisan can be seen making the items of coral jewellery; places like Spano Marogna in Alghero where a husband and wife team work on fashioning the genuine article.
We descended to the sandy harbour beach below Castel Sardo to clink glasses of occhio di pernice, Castel Sardo's red wine, and tuck in to pecora cheese, salami, huge green olives, plums and cherries. We had also bought chunks of fresh nougat that was packed with almonds and sliced on the spot.
The road back to Alghero traced the sea. Choosing a stretch with more sand than people, we plunged once again into the silk-warm water. Only the sight of a beach vendor weighed down by gelato enticed us from the gently slapping waves.
Five days in Masino's place had slipped effortlessly by. The fabled Emerald Coast which lay 150 km northeast could wait for a return visit.
The final night in Alghero would be spent in the company of the little man with a big heart. I looked forward to the hand gestures, shoulder shrugs, and facial expressions that would embroider his every word.
CHECKLIST
Getting there: Air New Zealand flights to London connect with airlines such as Ryan Air, Easyjet and Alitalia which fly to Alghero. Alghero Airport is 12km from the city. Cars can be hired at the airport but internet bookings are cheaper. Frequent ferry services connect mainland Italy and Sardinian ports, including Alghero.
Day trips: Stintino (40km from Alghero) and Castel Sardo (77km from Alghero) are two of many. Neptune's Grotto is only 15km west of Alghero on Capo Caccia and is accessed by road or boat from Alghero.
Where to stay: Accommodation ranges from hotels to self-contained apartments and B&Bs, both within and outside the old walled town. Agritourism (farm) accommodation is also available on the rural outskirts of Alghero.
Further information: See sardegnaturismo.it.
Susan Buckland flew to Europe with the assistance of Air New Zealand and paid her own way to Sardinia.