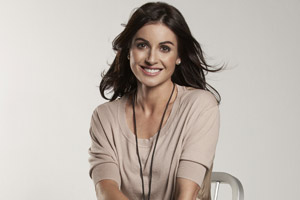 Do you travel light or heavy?
Definitely light and i always make sure I have extra room in case I buy something.
Cattle or first class?
Depends if i am going three hours or 12, with or without kids.
I can't travel without ...
My favorite scarf and my headphones.
What type of suitcase do you carry?
Tumi or Mandarina Duck - good luggage lasts.
What's always in your hand luggage?
A book, headphones, anti-clotting tights and my cellphone charger in case my luggage gets delayed. Good moisturiser and any work I might need for the first 24 hours.
Are you a planner or last minute packer?
Last minute but I will have thought about what I need during the week. If I'm running late I tend to over-pack and I hate carrying extra stuff I don't need.
What's the best thing you've brought back from a trip?
An antique chandelier from Argentina.
It's gorgeous and every time I turn it on it reminds me of the wedding we went to there.
Favourite or most exciting airport to land in?
Rovaniemi Airport in Lapland. The Arctic Circle crosses it.
Best packing tip?
Thought. Think about what you need, co-ordinate items and cut the list down to what you'll actually wear.
Most memorable trip?
A simple flight to Brisbane years ago when my nephew was 4. It was his first flight. Seeing travel through his eyes and listening to his take on everything he saw highlighted the sheer magnificence that is flying. He reminded me what a triumph of mankind air travel really is.
What do you do while on the plane?
If it's somewhere a decent distance away I eat something light then sleep as long as possible. Then if I have time when I wake up I either watch a movie or read. I went to Hong Kong last year with a girlfriend and she out-slept me by 15 minutes, I was devastated.
Sara Tetro is a judge of New Zealand's Next Top Model which returns to TV3 this Friday at 7.30pm.