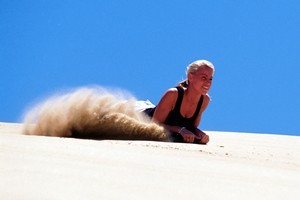 "You may be a little apprehensive when you reach the top of the sand dune, but believe me; it's not as bad as it looks."
Boogie boarding instructors are noted for their unquenchable thirst for adventure and sheer bravado and Steve is no exception.
"Today the sand is very fast, so after you whizz down, quickly move to one side to avoid a collision. Then relocate your shoulder, pop your finger and climb back up to the top."
I'm staring at this macho dude with open-mouthed astonishment, but his army of dedicated dune riders are lapping up his-tongue-in cheek advice.
I slide onto the board and plunge headlong down the precipitous slope. A wave of nausea and naked fear pulses through my body. My toes instinctively dig into the sand, gouging out a long trench under two fishtails of flying sand. In this moment of panic I swear that I can hear my heartbeat. My mouth opens to release an involuntary scream but no sound comes forth.
I skim over the hard-packed sand, hitting the stream in a shower of spray and slide across to the bus park like a true veteran of the dunes. I have conquered my fears and this mountain of sand. The rest of this day should be a breeze.
My sand boarding adventure is the climax of a very enjoyable big day out that began with an early wakeup call for the Cape Reinga coach tour. It is not long before our driver is demonstrating his sense of humour with an entertaining commentary.
'This coach is specially designed to handle the extreme conditions on Ninety Mile Beach and Te Paki Stream. We don't have opening windows so when the water level gets up to the top, you will be able to see the fish swimming past without getting wet.'
It takes a moment or two for our passengers to absorb the weird notion that this might be an amphibious bus with submarine tendencies.
We have a round trip of 470km ahead of us. The first stop is Pukeiti Forest, where we take a bush walk under a canopy of towering, ramrod-straight kauri trees. Just 4 per cent of New Zealand's original kauri forests remain, so we hug 500-year-old specimens to encourage them to reproduce.
We thread through the last 20km of twisting and turning road before the Cape. 'The road makers must have been paid by the corner,' says our driver.
He has convinced the Australian, British, Japanese, Taiwanese and Korean passengers on board that they are honorary Kiwis for the day. But some of our new friends have doubts about their Kiwi status when he diplomatically points out that 'kiwis are little flightless birds that come out at night to eat worms.'
My first view of the Cape Reinga lighthouse, the headland and the merging oceans is deeply moving and I experience a strong feeling of nostalgia. It's a dramatic landscape at the ultimate extremity of our beloved land, one that will always hold a special place in the heart and psyche of all New Zealanders.
On the windswept cliff top I feel a liberating sense of space and freedom. Seabirds wheel and scream, riding the wind over an agitated sea. I marvel at the sight of two mighty oceans merging together. There is an endless succession of Tasman rollers advancing towards the giant countervailing forces of the Pacific Ocean. The tumultuous collision spawns a maelstrom of churning waves, erupting into showers of white-flecked spume and spray.
Then I see the venerable old pohutukawa, clinging precariously to its jutting rock base. In Maori mythology this is 'the place of leaping' where spirits of the deceased climb down the 800-year-old tree and descent into the underworld and return to the ancestral homeland of Hawaiiki.
The return journey down Ninety Mile Beach is enhanced by a surprising hands-on experience - the ineffable joy of riding a horse.
Our driver's quirky funny bone is acting up again.
"Imagine that we have one horsepower instead of 600," he says, while playing the musical theme to Bonanza and deftly pumping the brake pedal to mimic the sensation of a galloping horse. He rises and falls in the saddle on his air-cushion seat, while holding firmly onto imaginary reins with an outstretched arm and clenched fist.
It's a virtuoso performance and the passengers love it - a high point on of this eventful tour and a beach ride will never be the same again.
We all leave the coach at Paihia with broad grins. It's been a magic carpet ride to our Land's End with miles of smiles on a 'submersible' coach. What a day and what a big buzz!