Kerri Jackson's 12-step programme for quitting winter and finding nirvana.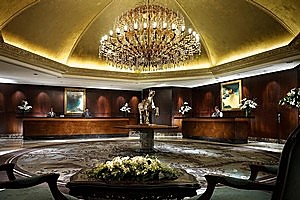 Winter. Spa. Getaway. Three words which individually have pleasant enough connotations, but which together surely make up one of the happiest phrases in the English language. Perhaps second only to "free spending money" or "wine with lunch".
Winter spa getaway: it conjures up delightful images of secluded, luxurious pampering. While the rest of the world hunkers down against blustery Antarctic temperatures and icy, driving rain, the winter spa getaway people are wrapped in a cosy, essential-oil-scented cocoon - the calm spot in the middle of the storm. Sound good? Here's how to make one of your own:
Step one: Have your tired, stressed, frost-bitten self collected from home if you're in Auckland, or the airport if you're venturing in from farther afield, in the Langham Hotel's Lexus hybrid limo. As the rain beats against the car windows, weather-beaten pedestrians peer into the discreet, darkened glass - wondering if it's someone they know and can possibly cadge a ride from.
Step two: Arrive at the Langham Hotel in central Auckland and let the grand sweep of the foyer envelope you, as you're checked in and ushered to your blissful home-away-from-home for the next couple of days ... the Chuan Spa Havens. These luxuriously appointed suites are named promising things like Nirvana and Serenity and located directly across the corridor from the Chuan Spa.
Step three: Wander dreamily around the suite trying to choose which of the two vast wall-mounted telly's to watch, or whether to dive directly into the infinity bath, recline on the sofa sipping mineral water, or simply bounce up and down on the super-comfy bed.
Step four: Pull yourself together. It's best to kick off the break with the best of intentions by hitting the gym. Run energetically on the treadmills, while watching a motivational spot of Oprah on the in-built telly as all around you other refugees from the the real world do battle with weights and, indeed, measures.
Step five: Pampering earned, hit the spa. Any visit to Chuan includes use of the pools and the unique tri bathing area, which includes the fabulously relaxing snail shower (snail refers to its shape - not some little icky mollusc) scented steam room, and the sauna followed, for the stout of heart, by the "ice experience". This involves slathering your sweaty, steamed skin with ice chips which make your heart race and your skin almost squeak with shock, but leaves you feeling fantastic.
Step six: Cleaned, relaxed and swathed in a comfy, warm Chuan robe, it's time to start the treatment proper. Today you'll be trying one of Chuan Spa's signature treatments, the Ming Gold Facial, which the therapist assures will do wonders for aged, tired skin dried almost to a husk by the twin evils of air conditioning and frosty weather.
The treatment involves tiny gold beads placed in a "matrix" pattern over your face. The beads draw toxins from beneath the surface of your skin and the pattern they're placed in depends on where you need the most help. Once the beads are removed your skin is lathered in nourishing oils and lotions. Yes, I can almost feel your scepticism - it all sounds a touch "Hogwarts" to me, too, but 60 minutes later my skin is as soft, glowy and plump as the proverbial baby's bottom. The therapist says the beads are so effective at drawing out nasties, they've been known to turn green or black on some people's skin. Ew.
Step seven: Retire to your Haven "exhausted" from all the pampering. I'm under strict instructions to keep spritzing my face with Qi gold spritz every few hours to maximise the benefits of the facial. I do so diligently while also quietly undermining it by soaking in that infinity bath with a warming pinot and waiting for a room-service spinach and feta filo.
If you're feeling a little less like hibernating try some fine dining at Barolo, downstairs off the hotel foyer where delicious home-grown truffles are on the menu.
Step eight: Sleep better than that fair-skinned girl with all the dwarf friends and a fondness for dodgy apples.
Step nine: Awake refreshed. Shower and, a little reluctantly, haul on some clothes. Peek out the window to find Aucklanders bustling past on the way to work, wrapped in scarves and blankets, and still shivering. Make your way to the 10th floor Langham Club Lounge for a quiet, refined and healthy breakfast ... with a side of bacon and eggs. It is possible to be too virtuous, after all.
Step 10: With breakfast settled, do a few lengths in the outdoor saltwater pool, heated to a civilised 25C on winter days. Follow up with a relaxing soak in the toasty jacuzzi.
Step 11: Enough lollygagging about. It's back to the spa for a little Aotearoa Aura - 90 minutes of exfoliation and relaxing massage, all based on the natural elements and landscape of New Zealand. There's the kelp, clay, manuka and ginger scrub, followed by a gentle massage and skin polishing with river stones, topped off with a pure manuka honey facial applied with greenstone, a hair masque, and a final massage. You'll be deliciously relaxed, if slightly tempted to lick all the yummy honey off your face.
Step 12: Sadly, it's time to check out. Pour your relaxed and rejuvenated self into the limo for the return journey. And, oh look, the sun's out.
IF YOU GO:
* The Langham Hotel has a Chuan Journey Experience weekday special valid for stays from Monday to Thursday until September 30, subject to availability, from $550 a room. The package includes one night's accommodation in a Chuan Haven Suite for two, a Chuan Spa signature massage of your choice - options include a stone therapy, harmony, balancing, or deep-tissue massage - a 15 per cent discount on other spa treatments and retail products, free use of the Chuan Spa wellbeing facilities including the fitness studio, pool and jacuzzi, Langham Club benefits such as butler service and use of the club lounge and business centre, valet parking for one vehicle and a 1pm checkout.
* A Chuan Spa Ming Facial is $170 for one hour; the Aoteoroa Aura is $210 for 90 minutes. All spa treatments (even for non-hotel guests) include use of the tri-bathing facilities.
* auckland.langhamhotels.co.nz
Kerri Jackson was a guest of the Langham Hotel