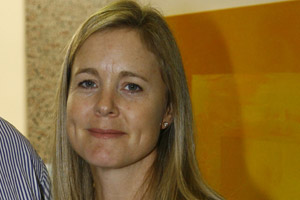 Do you travel light or heavy?
Light - up to five days away and I am hand luggage only.
Cattle or first class?
Pay cattle and occasionally splash out on premium ...
What type of suitcase do you carry?
The lightest one on the market. But I have to say I have just fallen in love with those uber-cool aluminium Riwowa cases ... we'll see.
What's always in your hand luggage?
Picture of my girls (soppy huh - I miss them as soon as I get on the plane).
What's the best thing you've brought back from a trip?
An all-in-one adaptor thingy that connects not just electric plugs but also phone and iPod and computer connections - and it's not clunky, as small as two matchboxes.
Favourite or most exciting airport to land in?
Hong Kong - talk about a well-oiled machine: clean, efficient, light rail between terminals, so well signposted it's a breeze to get around..
Best packing tip?
Layers - gets you through a whole range of weather.
Most memorable trip?
Trans-Atlantic upstairs on Virgin - the bar, the manicure, no food trolley just food when you want it - oh and NY waiting for you at the other end.
What do you do while on the plane?
Read, movie, read, sleep, read in that order and sequence as the flight drags on - bring on the space travel. I heard once that if air travel had progressed at the rate of the IT sector over the past 25 years that a flight to London would now take only 4 hours - if only!
* Ange Marshall is the founder and designer of Briarwood, a NZ manufactured and owned footwear and accessories label.