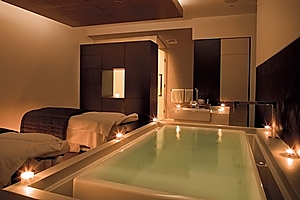 Most of the time, my instincts are pretty good. I'm great at judging whether Michael Hill is a fake-bake away from changing his ethnicity; I assume when Jaquie Brown spams me with a self-promotional email, others have received it, too; and I always suspected Andy Haden suffered from Idiocy Syndrome. So, when the invitation arrived to spend 10 days in Queenstown, I knew fun was on the menu.
Our adventure started with the sweet sound of bubbly popping on the flight.
"We wud like to take thus opputoonuty to welcum ew onbud thus Air Nu Zeelund flut to Queenstown and tha Wintuh Fustiful!," the flight attendant enthused.
The plane cheered and the two pretty girls sitting next to me from Millbrook Spa did what all good South Island sheilas would do and asked for another round.
Marcus Lush had told me to expect lots of late-night boozing and hangover cures involving fresh mountain air during my 10 days at Queenstown's Winter Festival.
"That's what I did," he volunteered. "But that was back when I was on Newsnight."
My gorgeous blonde-bombshell friend from TVNZ decided to join me for the opening weekend. But Bombshell left it so late to make a booking, the hotels were full and she begged to share my room at the five-star Sofitel.
"I'll take the rollaway," she offered, as if giving up my king-size bed was an option.
We arrived at the Sofitel by what can only be described as a Queenstown cab: A jovial local who talked non-stop and squeezed as many fares into the taxi as possible. We came via a Frankton B&B.
The hotel's lavishly appointed reception area offered a blissful welcome. In we strutted, sunglasses on, like "Auckland schmuck" was tattooed across our botoxed brows. The French-speaking porter took our bags and a handsome man with an uncanny resemblance to Jimmy Smits, but with a heavy Spanish accent, booked us into our deluxe spa suite with private balcony.
The rollaway was quickly added. "Will you be needing anything else?," he asked, as if "senoritas" was about to roll off his tongue.
"Cocktails," we chimed. Jimmy - let's call him that - directed us to the Cellar bar on the third floor. Since my stay, the Nue Champagne and Martini Lounge has opened on the ground floor of the Sofitel, which also serves Moet et Chandon afternoon tea with those scrumptious little Devonshire scones.
Bombshell and I, being the single girls that we are, plotted our weekend frivolities carefully. Terry Serepisos had invited us to join him at the ball on Saturday night, the theme of which was Moulin Rouge. Not remembering to pack my fishnets and lace-up bustier (as if!), I was quite happy with the fact I'd probably be the most underdressed. This was winter woolly territory, where not shaving your legs for a month is considered a survival technique.
Bombshell, I'll admit, is no stranger to attracting male attention. Which meant she wouldn't buckle to Serepisos' demands that we embrace the theme seriously and rent costumes. What did he expect? A Wild West Brothel-Keeper and a Saloon Wench?
Cheap gimmicks were as far as we were prepared to go, so we headed to the local $2 shop. Glitzy masks with feather adornments were the only appropriate things we could find, plus thin boa feathers that we later discovered left dye stains around our necks.
After Bombshell departed for Auckland, I needed to unwind, so I booked myself into the hotel's famous Le Spa. It is a pampering paradise with an extensive menu of treatments, including an exotic Hammam steam room. French-speaking Daniel catered to my needs. It. Was. Bliss.
The next day, I did two of my favourite things: watched 7 Days and drank Canadian Club at the Comedy Gala, where Michael Hill played special guest and comedy fodder. He walked out before Paul Ego made disparaging remarks about his lips.
It was colder than Diane Foreman's personality in Queenstown, but for me, the 10-day break was heaven, thanks mostly to the sumptuous stay at the Sofitel. If a weekend away is your cup of tea, I wouldn't go anywhere else.
* Rachel Glucina was a guest of the Sofitel Queenstown Hotel and Spa.