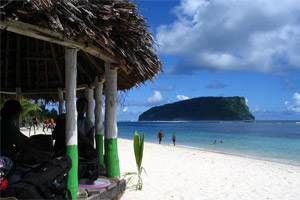 Under $900
Return airfares to Samoa from Auckland and five nights accommodation are on offer from $849 each, twin-share, but must be booked by close of business this Thursday (July 15). Flying from Wellington or Christchurch is priced from $1009 each, twin-share. Travel between October 15 and December 15 or between January 15 and March 31 next year.
Contact: Flight Centre, 0800 427 555
On the web: flightcentre.co.nz
Under $1800
Return flights to Adelaide from Auckland, Wellington or Christchurch, three nights at Breakfree Directors Studios and a three-night Captain Cook Murray Princess Wetlands Discovery Cruise are priced from $1799, each, twin-share. Travel between August 1 and December 2. Book by August 31.
Contact: House of Travel, 0800 838 747
On the web: houseoftravel.co.nz
Under $2000
A 10-day Yucatan jungle and ruins tour is priced from $1856 each, twin-share, for a mid-August departure. You'll stay in the Sian Ka'an Biosphere Reserve and visit the ruins of Mayan, Tulum and Chichén Itz.
Contact: GAP Adventures, 0800 333 307
On the web: gapadventures.com and use trip code CMAY
Under $2500
A 12-night China and Japan Explorer Cruise is $2480 each, twin share, departing from Osaka and taking you to Hiroshima, Russia, South Korea and the Forbidden City and Great Wall of China. Or choose a 16-night South China Sea cruise, priced at $2944 each, twin-share, and sail to Shanghai via Thailand, Vietnam, Hong Kong, Taiwan and the southern Japanese islands of Okinawa. Both Pacific Cruises journeys can be booked through most travel agents.
Under $3500
Join the tallship Soren Larsen in Vanuatu on a 10-day sail, visiting remote islands. There are two trips to choose from: July 26 to August 5, or August 30 to September 9. The price is $3495 each.
Contact: escape@sorenlarsen.co.nz
On the web: sorenlarsen.co.nz