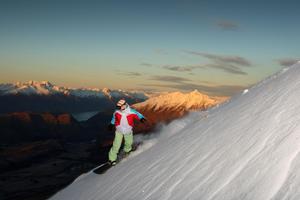 The plan was to watch our boys having their first ski lesson. After all, we'd been there for their first steps so it seemed only natural to witness this milestone.
But the Kea Club instructor at Queenstown's Coronet Peak shooed the hovering mums out of the ski school meeting area, explaining it was best if parents weren't around for the first half hour.
And it's not as if the boys are babies at 11 and 14. Slowly it dawned on us ... we were on holiday ... someone else was looking after and teaching the boys to ski ... we could be the parents on the ski piste. It almost felt like we were young, carefree and childless again.
And what a day to ski - the shortest day of the year, the All Whites were doing their unbeaten thing at the World Cup and we had Coronet Peak almost all to ourselves ... well, along with 1000 others.
The Ministry of Education won't like me saying this, but if you really want to get the most out of your ski pass, it's best to avoid the school holidays when there can be between 5000 and 7000 people on the slopes (and that means the Australian school holidays as well, as the Aussies make up a sizeable proportion of this country's ski customers).
We warmed up on a gentle slope, then moved to the blue runs before catching up with the kids who were eating with their ski group. Their instructor, Candace, told how she had to put the brakes on Aubin and Jamie's enthusiasm when they declared they were ready to head for the top of the mountain and the black runs, convincing them it would be good to learn some basics first - like being in control and how to stop.
We had five days in scenic Queenstown and divided our time between Coronet Peak and the Remarkables, with a rest day in the middle. We timed the break right, as snow started to fall towards the end of our second day skiing at the Remarkables. The next morning we gave the Aussies in the next apartment at the Oak Shores a lesson in the art of building snowmen, with my Belgian-born husband showing them how to roll the "bonhomme de neige's" body parts.
We'd packed loads of warm clothing for Queenstown's alpine climate but the apartment with under-floor heating and gas fire was way cosier than our house on Waiheke Island. And with a full kitchen, washing machine and dryer, it had all the comforts of home.
But, after a day away from the mountain, the kids were itching to get back on skis. By this stage they had graduated through to level four and had the knack of parallel skiing. Fearless, competitive and with boundless energy, they were soon leaving us for dead on the slopes. James, their English instructor at the Remarkables, said Jamie and Aubin's sibling rivalry actually helped them as it meant they were keen to learn and progress to the next level in their constant bid to outdo each other.
If your children haven't skied much, it really is worth paying for lessons. Not only do you get a well-earned break but the children learn rapidly, plus the instructor takes them all over the mountain.
It was one of my fears that the boys might get lost or hurt but, apart from one encounter with a stationary skier and a rather impressive face-plant off piste, the only things we broke on our ski holiday were a plate and a couple of glasses at the apartment.
My husband Philippe and I also had a couple of catch-up lessons. Mine was with Heather from the United States who quickly pinpointed where I was going wrong, showing the difference between technique learned on the old style skis and what I needed for the new carvers. That sorted, I found new energy and enthusiasm levels to hit the slopes again.
Most families have to budget and plan ahead to afford a skiing holiday. But if you're well organised, you can keep costs down by buying secondhand gear and making your own lunch (just be aware that you're not supposed to eat non-cafe food in the cafeteria areas).
I found the mornings busy enough getting us all out the door so was happy to go with the flow and buy lunch up the mountain. It's good hearty standard ski fare (chips, burgers, chilli con carne, macaroni cheese, juices, hot drinks) and it's also a dollar or two more expensive than what you would pay away from the mountain. But what the hell, we were on holiday, I'd be back to making school lunches soon enough.
Another tip is to lunch late. Most people stop between noon and 1.30pm. We'd ski through that period, enjoying the reduction in traffic on the slopes, then make our way to the cafe when that, too, had emptied out.
We were asked which of the two ski fields we preferred but that's a hard call. The boys had a preference for the Remarkables simply because that is where they started feeling confident on their skis. The Remarks also seemed more popular with boarders.
Coronet Peak has a more upmarket feel with its multimillion-dollar spend on new high-speed lifts, snow machines and base building.
The Remarkables, meanwhile, has been chasing the family and backpacker market, offering incentives such as free skiing for under 10s and complimentary bus transport if you pre-purchase your lift pass. But there's a big spend coming here, too, with lift facility upgrades and plans to open up more terrain for skiers and boarders.
The Remarks also gave Philippe and Aubin some thrills off the snow when the rear wheels of their bus skidded, after fresh snow, into the mountainside on the descent. At least you know when you get a text saying "we crashed" that the person sending it is in a fit enough state to type a message. And it was reassuring to hear the driver did what the drivers are trained to do when something goes wrong.
While the Remarkables' bus service is wonderful, eliminating a drive up a challenging road, patience is needed for the queues at both ends of the day. But that minor niggle fades soon and all you remember is the day's skiing.
Skiing could never be described as a cheap sport but you can't beat the sensation and satisfaction of a ski run where everything falls into place, especially with the Wakatipu Basin below you and clear blue skies above. Plus it's an activity the family can do together.
It's a sport that is easier to master when you're young and fearless. I figure, living in Auckland, that we may not get many days on the slopes but at least our boys have new skills and an experience they will never forget after our wonderful family holiday.
And they won't forget the flight home either; not only did we have the most amazing views of the Southern Alps but we recognised Geoff the purser (fully dressed, thankfully) from Air New Zealand's naked safety videos. Fortunately that's the only part of our trip that could be described as being anything near a bum deal!
CHECKLIST
Getting there: Air New Zealand flies Auckland to Queenstown direct. Visit grabaseat.co.nz for special deals.
Where to stay: See theoaksgroup.co.nz.
Skiing: Lift passes at the Remarkables are $89 per adult per day (youth $49) and get cheaper the more days you ski; the Coronet one-day adult lift pass is $95 (youth $52). At the Remarks, if you are under 10 or over 75, lift passes are free. At Coronet Peak you have to be under 6 or over 75 to ski for free. Day lessons for the kids start at $100 at Coronet Peak and $90 at the Remarkables, but you can add on extras for lift passes and lunch.
Further information: See nzski.com, theremarkables.co.nz and coronetpeak.co.nz.
Donna McIntyre and family travelled with the assistance of Air New Zealand, Ski NZ and Oaks Shores apartments.