Jacques Marais risks life and limb in a legendary land of hair-raising, bone-jarring, biblical grandeur - and loves every minute.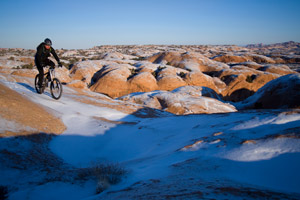 Moab. Now there's a four-letter word epitomising everything that is uber-cool about mountain biking. The name of this little town in Utah must have launched hundreds of biking brands, and it is surely the Arcadia every member of the fat-track tribe dreams about.
This is where you will find the legendary Slickrock Trail, the truly hair-raising Poison Spider Loop, and horizon-to-horizon cranking along legendary multi-day routes such as the White Rim Canyon Trail.
But there is life to Moab beyond Eddie McStiff burgers, Tyre Bite lagers and stomach-lurching drop-offs. Just the drive along the green, crushed-ice course of the mighty Colorado is enough to skid your endorphins into amber alert. Grand buttes, flat-topped mesas and rocky towers shatter the skyline beyond Castle Valley, with craggy fins routing the landscape below the distant La Sal peaks.
The name Moab itself is biblical (after the country of the Moabites) and comes courtesy of the devout Mormons who originally settled this part of the Utah desert.
Cruise on to the main drag and you're bound to feel like a teenager on a first date as you ogle a riot of bike shops named after the famous trails blasting through the surrounding red rock ridges. Rim Cyclery, Poison Spider Bicycles, Slickrock Cycles ... this has to be living the mountain biking dream.
You can approach your Moab epiphany in a number of ways. Either opt for a crank along one of the multi-day trails (Kokopelli and White Rim Canyon are the obvious choices), or base yourself in town and do a range of gut-thumping, mouth-watering, tyre-shredding rides you're sure to remember for the rest of your life.
Day one is the Slickrock Trail. Arguably the world's most famous mountain bike trail, Slickrock is rated an undiluted, 100 per cent black route. In fact, the signs at the trailhead warn you explicitly to stay off the trail if you in any way doubt your technical skills.
Getting to the trailhead itself is no big deal, and it won't take you more than 20 minutes to pedal up the steep Sand Flats Rd zigzagging out of town. Once you reach the top, it's just you and miles of curvaceous sandstone. Knobs and spurs, fins, outcrops and gashed canyons are frozen in time - as if the outdoor gods got together during the early Cretaceous period to shape the perfect mountain bike playground. The 3.2km practice loop serves as a taster, but the real test kicks in once you ride on to the 16km Slickrock Trail.
"You've gotta trust your rubber!" my friend Mike shouts as we set off, immediately dropping down 3m along a steep rock chute. Momentum is the name of the game, and all you can do is focus as you blast along the dotted white line traversing the slalom sandstone slope. Looping whorls of the Entrada Sandstone lure you ever onwards, enticing you to bomb improbable lines on the edge of gaping canyons.
High above, white clouds scud against the dome of the sky, cotton-woolling from the Colorado River far below you to the opposite horizon, where the snowy La Sal peaks spike against the blue.
It is like riding within a multi-million-dollar movie set, and three hours later you will finally tick off Slickrock on your "legendary rides" list, sporting a broad smile.
On day two, if you're in search of a trail packing serious venom, head about 17km (northwest along the US-191 and US-279. You will find the start of the Poison Spider Trail on a dirt road (look out for a sign reading "Dinosaur Tracks"). This menacing ride is rated as double black, with trail guides describing it as "gruelling" and even "life threatening". The Portal section, with a 130m drop edging the single track, has been responsible for serious injuries and at least one confirmed death, so take extra care.
The first kilometre or two is made up of vicious inclines, mashed together by baby-head rocks and stretches of calf-crunching sand. Then you hit The Ledges, and it's like riding up two steps at a time before you eventually crest on to the alluvial plain. From here, the views towards the La Sal Range are surreal. Enjoy them, as your eyes will be glued to the hairy single track once you hit the Portal downhill. Do not attempt this ride in winter, as ice and snow will make it an extremely dangerous mission.
Days three to seven take in the White Rim Canyon Trail. Canyonlands National Park, around 90km from Moab, is home to this 160km of unparalleled, multi-day mountain biking. Situated within the "Islands in the Sky" section of what is Utah's largest national park, the trail generally takes three to four days.
All your riding is along jeep tracks and gravel roads, traversing wild canyon country through areas such as Murphy's Hogback, Hardscrabble Hill and Mineral Bottom.
This is rated as a moderately challenging ride, but extreme caution is necessary, especially in mid-summer and during the freezing winter. Mountain bikers and other trail users have to make use of camp sites in 10 designated areas, and the number of trail users at any specific time is restricted.
FACTS & FIGURES
It's home to three of the world's most famous trails, but dozens more await visitors to Moab.
Route length and duration: The rides vary from 16km to 160km and may take anything from three hours to four days to complete.
When to go: Summer is hot, whereas winter snow and ice will add to the level of danger, so autumn and spring are good. That said, February can have gorgeously clear days and means you will have nearly every trail to yourself.
Special considerations: A full-suspension bike will improve handling in the gruelling terrain typical of the Utah Desert. There are brilliant bike shops in Moab stocking quality hire bikes. Many of the trails require a high level of off-road skills, and there is a real danger of injuring yourself if due care is not taken.
Maps: Trail maps are freely available in Moab.
Tour operators: Extensive operator/trail information is available at discovermoab.com.
Permits/restrictions: These vary from trail to trail, and should be ascertained beforehand.
* Text and images extracted from Great Cycle Journeys of the World, lead author Steve Razzetti (New Holland, $69.99). Out now. The book profiles rides through 34 classic cycle tracks - including the South Island's Otago Rail Trail.