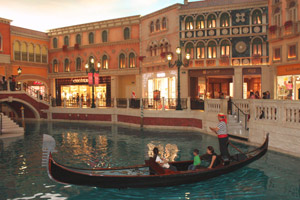 Look, I said, as our ferry approached Macau. There's a huge Chinese fort guarding the harbour. But next to it there's a volcano with people walking into it. That gateway looks as though it could have been the main entrance to Babylon in its heyday. Surely that street down there is Bourbon St in New Orleans. And isn't that the Roman Forum? Where is this place?
The tiny former Portuguese enclave, nestled on the edge of the vastness of China, looks like the architectural crossroads of the world.
As we drove into the city I spied St Mark's Tower from Venice, with a lake in front and the Doge's Palace behind, plus several gondolas lined up at the jetties.
Then there was an elegant square, lined with wrinkled trees and covered in black and white paving, which could have been lifted from Lisbon, and the building behind was definitely a Portuguese palace.
Round the corner was an ancient Taoist temple and on the seafront I spotted a 20m-high statue of Kun Iam, the Buddhist goddess of mercy. But on a hill in the middle of town were the ruins of what was clearly a European cathedral.
Soaring above all this were clusters of mirror-clad skyscrapers surrounded by fountains and covered in neon lights, which might have come straight from Las Vegas. And beyond was what looked very much like the Sky Tower from Auckland.
Some of the buildings were for real. There was a scattering of ancient Buddhist and Taoist temples. And the Portuguese did rule this sliver of land for nearly 500 years and left their imprint.
But most are the result of an explosion of construction, which followed a decision of the Chinese authorities - who took back control of Macau in 1999 - to loosen up the rules on gambling licences.
Probably the most spectacular is the Venetian, where we stayed. Around the shores of a small artificial lake a slice of Venice has been created, its ancient palaces providing room for cafes and shops. But behind the medieval facade soars a vast modern tower containing 3000 suites plus conference facilities, entertainment areas and more shops, cafes and a giant casino.
The enormous hotel covers almost 100ha. While we were there its arena was being set up for a tennis tournament featuring Pete Sampras and Andre Agassi - seating 15,000. The gaming floor alone is 5ha with 3000 slot machines and 750 gaming tables.
The hotel has its own resident Cirque du Soleil show, Zaia, which performs nightly in a purpose-built 1800-seat theatre. It also includes the Grand Canal Shoppes, an indoor mall in Venetian style, covering 10ha with 330 shops, 30 restaurants a 1000-seat food court - and three canals.
And, of course, you can take gondola rides on those canals, past ancient buildings which have the appearance of a spruced-up Venice, with gondoliers who - unlike the real ones - are friendly and can actually sing. We went for a ride with Santino, from Sicily, via the Venetian in Las Vegas, who sang us a delightful version of La donna e mobile. But, as if all that wasn't enough, the Venetian is part of a wider complex called the Cotai Strip, which will eventually include six hotels plus more shops and casinos.
Just across the road another complex is taking shape, the City of Dreams, the dream of Australian media mogul James Packer, which will eventually have four hotels as well as restaurants, casinos and entertainment facilities, including a 2000-seat theatre.
The highlight at the moment is the Bubble, a dome-shaped theatre offering an amazing 360-degree multi-media performance featuring stunning underwater scenes, scary eruptions and a magical dragon. Then there's Fishermen's Wharf, right beside the Macau Ferry Terminal, where you'll find the unlikely combination of volcanoes and Tang Dynasty forts, Roman ruins and Louisiana boulevards.
It seems every hotel and casino operator in the world has rushed into Macau and in 2007 the former colony overtook Vegas as the gambling capital of the world.
Meanwhile, Macau's original casino king, Stanley Ho, hasn't just let his gambling revenues slide away. Among his offerings is the Macau Tower, modelled on the Sky Tower, though 10m taller at 338m. From the top of the tower there are views over the Pearl River delta, where it stands, to China beyond. It's from China that 90 per cent of the gamblers expected to pay for all this growth will come.
CHECKLIST
Getting there: Cathay Pacific flies direct from Auckland to Hong Kong 10 times a week.
From Hong Kong there are regular ferries to Macau. See olamacauguide.com.
Where to stay: Try The Venetian. You can find out about the City of Dreams at here.
Further information: Visit the Macau Government Tourist Office website at macautourism.gov.mo.
Jim Eagles visited Macau as a guest of Cathay Pacific and the Macau Government Tourist Office.