Miranda's many birds are a delight to watchers, writes Jim Eagles.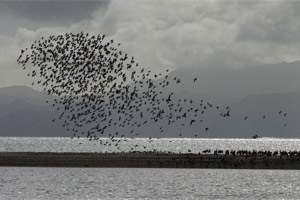 There was much excitement at the shorebird viewing area at Miranda as high tide approached, the birds assembled from all round the Firth of Thames and the birdwatchers gathered. Suddenly a shaft of sunlight broke through the clouds and briefly spotlit the narrow spit of sand just offshore where hundreds of birds were roosting.
In that spotlight - as well as the wrybills and banded dotterels, golden plovers and pied oystercatchers commonly found here at this time of year - was the rare sight of 20 royal spoonbills and one aristocratic white heron.
"That's spectacular," said one budding ornithologist.
"Look at the way the sun is making their feathers gleam. With that white heron and all those spoonbills it's a beautiful picture."
I thought so too, so I sneaked down the foreshore to take a photo. But before I could click the shutter the sun disappeared back behind clouds, the white heron took off and the picture had gone.
Seconds later irritation turned to excitement when the white heron landed in front of me and stalked gracefully along the water's.
Suddenly it spied something, its long neck uncoiled like a spring, that lovely head and deadly beak vanished underwater, and came up with a fish.
Immediately the wrybills on the spit decided it was time for some formation flying, so several hundred of them, joined by a few godwits and knots, took off and swirled in a great cloud above the sea, sometimes compressing tightly together, other times stretching out like a giant rubber balloon, but always in contact.
That's what I enjoy about birdwatching at Miranda: there's always something to see but you're never sure what it will be.
A few weeks ago there were 5500 bartailed godwits and 2000 red knots, resplendent in their breeding plumage, making practice flights for the 17,500km flight back home.
Now they've gone, leaving just a few dozen godwits and knots behind, birds not yet strong enough to tackle such a demanding journey. But there are still 2000 wrybills, marvellous little birds with unique sideways bills; 1800 pied oystercatchers, up from the South Island to enjoy the warmer weather; lots of pied stilts, with their high-pitched peeping; 20 Pacific golden plovers, wearing their high-fashion plumage; a few turnstones, sandpipers, stints and curlews; those spoonbills, with their fascinating spoon-shaped beaks and my friend the white heron; plus, amazingly, one stray Hudsonian godwit.
If you're not a birdwatcher then a Hudsonian godwit may not sound exciting but last time we were at Miranda it had the serious birdwatchers all agog.
The man next to me looked up from his huge spotting scope in triumph. "There it is. The Hudsonian. Fantastic."
When I asked the difference between a Hudsonian godwit and the common bartailed kind he invited me to see for myself. "Here, I've got it in the scope."
At that moment the birds took off, among them the Hudsonian which, it turned out, is easier to pick in flight because it has a whiter rump.
"Where is it? Where's the Hudsonian?" demanded the birdwatchers, as they arrived, panting with excitement.
Like I said, there's always something interesting to see at Miranda, and you never know what it might be.
FURTHER INFORMATION
Miranda is only an hour's drive from Auckland so it's an easy day trip. If you want to stay longer, there is accommodation at the Miranda Shorebird Centre, Miranda Holiday Park and several bed and breakfast places.