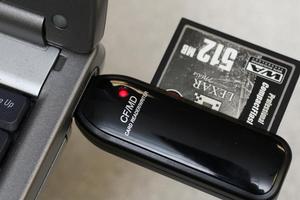 If, like me, you take too many photos when you're travelling it can be a bit of a problem storing them. Memory cards for digital cameras are coming down in price all the time but if you're trying to cope with three weeks of photos on a 15 megapixel camera, the cost adds up.
The obvious solution is to download the photos on to a computer or a memory stick. However not everyone wants to lug a laptop round, you can't always count on an internet cafe when you need it and not every computer has a card reader anyway.
My answer is to take a netbook, an EeePC, which is small and shock resistant, and an 18Gb memory stick, which can handle a lot of photos. But, the EeePC only has a built-in reader for SD cards and my camera uses CompactFlashcards.
The final piece in that puzzle arrived the other day when I bought a single slot card reader, which is conveniently small, just plugs into the USB port of any computer and you can download your pictures wherever you want.
The little card reader costs just $22 (plus freight) from flashcards.co.nz ... and lets me click away to my heart's content.