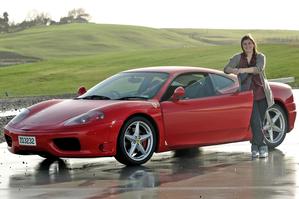 Here's a question I never thought I'd have to answer: "Would you like to drive the Ferrari or the Lamborghini today?"
I guess punters who fork out for a supercar worth as much as their house would have given this some thought. But I was a little overwhelmed by the choice at the Freeman X driving experience - Ferrari, Lamborghini, Lotus, racing Mini - any one of them is a far cry from my Honda Civic.
So Eddie Freeman, the man behind the Hampton Downs driving experience, set me up with the Ferrari 360 Modena. It was a good choice: a 3.6 litre V8 engine producing 400 horsepower and a top speed of close to 300km/h. Plus, it's red.
First though, my morning started with a "siting lap" in a Mitsubishi Evolution X to look around the track.
I'd never been on any racetrack before, let alone in a Ferrari, so this was my chance to see how it was laid out, get some tips, and get a look at the signs and marker cones showing where to brake, where to corner and what line to take through the turns.
And then it was my turn.
To be honest, I wasn't that confident about driving the Ferrari. I like cars, but I'm no girl-racer. I thought I'd probably inch it around the track at about 10km/h, and be thrilled to just not crash it.
But that was where Sean came in.
Every driver is paired with an instructor who sits in the passenger seat and coaches you through the laps.
My instructor, Sean Carey, had just the right mix of infectious enthusiasm for the car and calm reassurance I wouldn't send it spinning into a wall.
And while Sean may have seemed a man's man, he came over all poetic when talking about the Ferrari. It needs to be treated, he says, "like a diva".
"It's a Ferrari, and at the end of the day, there's nothing more passionate than a Ferrari."
Sean got me settled in the driver's seat, advised me to choose automatic over the paddle shift, and had me ease out of the pit lane on to the track.
And then - well, everything after that was fantastic.
I loved the sound the best, that full, open-throated roar swelling up and rolling in the open windows.
For the first lap I was a bit scared to put my foot down, but with Sean's encouragement, by the second and third I was starting to use some throttle.
Freeman X is pitched as a driving experience, rather than a racing experience, so the team try not to raise any expectations about how fast you'll go.
But most people end up driving faster than they expect, Freeman says.
That top speed? I didn't get anywhere near it. But I did hit speeds that on a public road would see my licence fairly swiftly taken off me.
I never felt out of control either - in 1500 laps they have never had an incident at Hampton Downs, and "most people actually under-drive the cars, because it's their first time on the track and their first time in the car", Freeman says.
My only complaint is the track layout means on a three-lap package, which starts and ends at the pits, you only go down the main straight twice. And I was just getting warmed up on my second one.
Freeman X could be a heaven for hoons and petrol heads only. But it's not. Most punters are, predictably, men, but they get all sorts turning up, including women, who drive particularly well, Freeman says: "Because they're actually quite responsive to instruction."
There's entertainment for partners and kids who come along to watch, from seeing the cars put through their paces (and when the professionals drive, they really move) to just having their picture taken with a supercar.
The final part of the experience is a "hot lap" with one of the drivers to find out what the cars can really do, and for that, I was treated to a lap in the Lamborghini Murcielago.
I don't think it matters if you like cars or not, being in this car when it really opens up is just ridiculously fun.
And it's not just the speed - although that's pretty great - the best thing is the sound, the way the car lets out that growling, 600-horsepower roar.
You can't not be happy about making a sound like that, you can't not enjoy the sheer silliness of that much power, and the thrill of putting your foot down and letting it out.
It's fun whether you're driving or not, and the nice thing about the hot lap is being able to sit back and enjoy it without worrying you'll to lose it on the chicane.
And the worst thing? I can never look at my Civic the same way again.
FACT FILE
What: FreemanX Supercars
Where: Hampton Downs Raceway, one hour's drive south of Auckland
Cars: Lamborghini Superleggera and Murcielago, Ferrari Modena, Lotus Exige, Mitsubishi Evolution X, Mini Challenge Race Car
Cost: $199 to $949
Contact: (09) 478 6602 or visit www.freemanxsupercars.co.nz