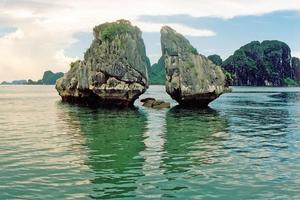 Beautiful Halong Bay in Vietnam - but beware the 'eco-cruises' on which crews toss rubbish into the water. Photo / Getty Images
I have a daughter and her family residing in Hanoi. I visited them two years ago and thoroughly enjoyed my time there and spent some time in Sapa, Hoi An, Ha Long Bay and, of course, the streets and shops of Hanoi. I plan to return again this year. My daughter recommends I visit Luang Prabang in Laos but I would also like to visit some of the less touristy but interesting areas of Vietnam. Have you any suggestions? I am a retired veterinarian and have an interest in eco tourism and wildlife conservation. I am a back packer from the 1970s so do not mind "roughing" it bit if the destination is worth the effort.
-Chips Jones
Lonely Planet author Adam Karlin writes: Before I answer this question, I want to make a note on eco-tourism in Vietnam as this is becoming an important travel trend.
Eco-tourism in Vietnam is often promoted by companies who either by ignorance or outright unscrupulousness do not adhere to the ethics that would constitute viable eco-tourism projects.
The potential for the abuse of the eco-tourism brand is high, so buyer beware. If you have a discerning eye, it's easy to see which sites or activities are environmentally damaging.
For example, on Halong Bay cruises the crews of boats are often nonchalant about tossing their rubbish into the water. That doesn't mean there aren't plenty of places you should check out, but be prepared for a bit of roughing it.
On the bright side, travel infrastructure is good in Vietnam and, with a bit of effort, you can reach many places under your own steam. I would suggest checking out the Vietnamese national parks system to start, particularly areas in north-central Vietnam, which are often passed up by tourists. The areas around Bach Ma and Phong Nha-Ke Bang National Park are beautiful examples of the South-East Asian jungle mountain scenery; Phong Nha-Ke Bang is especially rich in plant and animal biodiversity.
Further north, Tam Dao National Park constitutes a physically beautiful area situated amid mountains and river basins that also contains high reptile and insect biodiversity. Cat Ba Island, in Halong Bay, is relatively easily accessible, is a protected area and is something of a tropical paradise, but is subject to being over-touristed.
In the south, Phu Quoc island, the largest Vietnamese island in the Gulf of Thailand, has the same benefits and drawbacks of Cat Ba. In the central highlands, near Da Lat, Chu Yang Sin National park has some stunning scenery in an area that is often ignored by tourists.
Win a Lonely Planet guide book
Get the information you need to make your big trip a success. Email your travel questions to travel.info@lonelyplanet.com and they'll be answered by Lonely Planet's experts.
In addition the best question each week will earn a Lonely Planet guide book.
To give yourself a chance to win add your postal address and the guide book you'd like to receive. You can find out about Lonely Planet books at LonelyPlanet.com. Not all questions are necessarily answered and Lonely Planet cannot correspond directly with readers, or give advice outside the column.