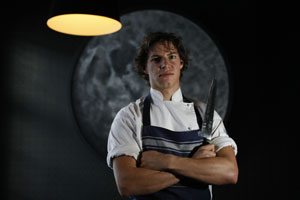 Do you travel light or heavy?
Definitely light - having grown up in South Africa, I learned quickly that your bags don't always arrive.
I can't travel without ...
My iPod. I have moved countries three times and music always brings me comfort when I get homesick.
What type of suitcase do you carry?
A backpack - the best destinations always involve plenty of walking.
What's always in your hand luggage?
A men's health mag and the latest cooking mags.
What's the best thing you've brought back from a trip?
The art of French conversation, after spending a year in Paris.
Favourite or most exciting airport to land in?
Narita Airport in Japan. Flying into Tokyo at night you see the overwhelming lights of the city. The culture difference is so great that when you step off the plane it's like being on another planet.
Best packing tip?
Folding clothes is overrated. I recommend the "shove-it-in" method.
Most memorable trip?
Flying out of New York at 6.30am on September 11, 2001, only to land in Florida a few hours later to see the Twin Towers collapsing on TV. The stunned look on people's faces in the airport there was something I'll never forget.
Nick Honeyman is head chef at Dallow's, the recently launched casual fine dining restaurant in Auckland's Sale St establishment.