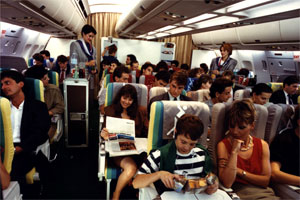 Battling the traffic on the way to the airport, queuing forever to check-in, then running the gauntlet of security can be a stressful business. But once you're actually on the plane you can lie back and relax. Right? Wrong, apparently. You have to watch out for thieves.
Take the case of Washington businessman Gregory Hendricks, who took his wife on a surprise trip to Paris. As their flight prepared for landing at Charles de Gaulle Airport he discovered his wife's passport had vanished. Instead of having a romantic holiday, the couple were escorted through a security checkpoint and put on a plane back home.
Hendricks has no doubt the passport was stolen by a fellow passenger and he thinks it must have been a man who came from the back of the plane and rummaged through the overhead locker above. "I was thinking 'there is no room up there'," he said, but at the time he did not say anything.
Sounds like everyone's travel nightmare. It's a tragic tale, which prompted online newspaper the GlobalPost to investigate just how common theft in the air actually is. It concluded that while the amount of in-flight theft is probably tiny when you consider how many passengers fly every day, examples are not hard to find.
For instance, the 22-year-old son of American television actress Cybill Shepherd is due to stand trial shortly for in-flight theft after other passengers accused him of stealing cash, a digital camera and other items from carry-on bags during a flight from San Francisco to Philadelphia.
Another highly publicised case, still being investigated by police, involves five business class passengers travelling from Tokyo on an Air France flight to Paris who woke to find $7400 missing.
"There's a false sense of security on a plane," reckons Steven Frischling, a frequent flyer turned airline industry blogger, who has written about the subject. "People feel safe because they're confined in a metal tube."
Frischling told GlobalPost he had been in anonymous contact with thieves who make a living stealing at airports and "there is a definite method to doing this."
According to his information, in-flight thieves prefer aisle seats at the rear of the plane and try to board early so they can see who is putting what where and how into the overhead lockers. They also tend to aim for items like wallets, mobile phones, compact cameras and other small electronics that can be sold on eBay or to a pawnshop.
So what can you do about it? An Air France spokeswoman, while pointing out that cases of in-flight theft were "infinitesimal", reminded us that "passengers bear the sole responsibility for baggage that is not checked in".
Air New Zealand, similarly, said it hadn't noted any increase in complaints about theft but "as with any public place, we'd encourage customers to keep an eye on their belongings".
And the Hendrickses, after their experience, have a few words of advice. They now keep their passports "in one of those carriers that go around your neck and down your shirt".