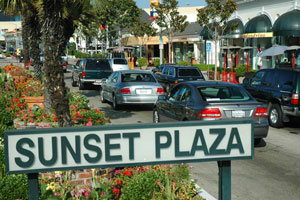 West Hollywood is LA's playground for the stars. Spend a few days hanging around Sunset Boulevard and you're almost guaranteed to see someone famous.
The problem, of course, is that you may go broke doing it. Celebrity hangouts such as the London Hotel, with its Gordon Ramsay Michelin-starred restaurant, can put a serious dent in your holiday spending money.
Thankfully, there are plenty of places to eat, sleep and drink that don't require offshore funding and where you still have a good chance of spotting a star. Here are our picks.
Accommodation
More celebrities stay at the Sunset Marquis than any other hotel in West Hollywood. George Clooney regularly settles into the Presidential Suite for months at a time and at the last Oscars the hotel hosted 12 of the nominees and two of the winners.
If US$7000 ($8800) a night is a little out of your league, just around the corner you'll find the Chamberlain, a boutique property where rates start at US$159 and which boasts something the Sunset can't - a rooftop pool with stunning views of the city.
If you're keen to stay on Sunset Strip - the 2.4km section of Sunset Boulevard that passes through West Hollywood - try the Best Western Sunset Plaza. It's located between two of the area's most exclusive hotels, the Mondrian and the Sunset Tower, but can be yours for a wallet-soothing US$149 a night.
Shopping
Spend a day window shopping in the chic Avenues of Art & Design district and you'd be very unlucky to not see a celeb. Located on the crossroads of Melrose Ave and Beverly and Robertson Boulevards, it is home to more than 300 of the world's finest art galleries, antique shops and designer stores.
Although the prices at high-end boutiques such as Balenciaga, Alberta Ferretti and Maxfield will make your eyes water, more affordable options include Kitson, Alpha Man and HLNR. All the Kitson stores are worth checking out, as Kitson Studio, Kitson Men and Kitson Melrose all stock the latest styles.
Back on the Strip, the two-block section of fashionable boutiques known as Sunset Plaza has been a star magnet since the 1920s. It still boasts big names such as Hugo Boss, Dolce & Gabbana and Nicole Miller, as well as smaller boutiques like Eva Longoria favourite Zadig & Voltaire.
Prices may be steep, but the people-watching is free. Settle down in one of the many European-style outdoor cafes, pop on your oversized shades and watch the world and his mistress go by. Places like Clafoutis, Chin Chin Grill and Le Petit Four all have affordable prices and patio seating - perfect for a spot of celebrity bingo.
Eating out
Cecconi's at the corner of Melrose and Robertson is the hottest new restaurant in West Hollywood. It was the place to be seen during this year's Oscars, as everyone from Madonna to Mariah Carey vied for a table. Victoria Beckham recently had her birthday there and other regulars include Katie Holmes and Jennifer Lopez. Which must mean it's outrageously expensive, right? Not at all. Mains range from US$15-$30 and you can even watch Hollywood's movers and shakers doing deals over breakfast.
Although the Palm is the steakhouse of choice for the stars, the recently opened Tony's on the Strip is much more affordable as everything on the menu is under US$25. Drink enough of their US$5 martinis and the bloke in the corner will eventually start to look like Brad Pitt.
Finally, if you do want to splash out you can't go past the Sunset Tower hotel. Once the home of screen legends Marilyn Monroe, Frank Sinatra and John Wayne (who famously kept a cow on his balcony), the hotel's Tower Bar and Restaurant is now frequented by the likes of Jennifer Aniston, Courtney Cox and Prince. Sure, dinner will set you back the price of a small car, but there's nothing to stop you popping in for a drink or dessert.
Nightlife
Celebrity hangouts such as the Mondrian Hotel's SkyBar and The Standard Hotel's Purple Lounge are nigh on impossible to get into unless you're a supermodel, you're dating a supermodel or you arrive in a Lamborghini. Instead, try the Mondrian's new lobby bar, ADCB, or The Standard's sleek Cactus Lounge, two affordable alternatives.
If you're after something a little more Coyote Ugly, Saddle Ranch on Sunset is lots of fun. The food is great value, the portions are huge and there's even a mechanical bull to ride. It's also been featured in television shows such as Desperate Housewives, Sex And The City and Six Feet Under so even if you don't spot a star, you'll feel like one.
Live music lovers are spoiled for choice on the Strip. The intimate Viper Room is one of the best venues in the area and has hosted impromptu performances from the likes of Bruce Springsteen and the Red Hot Chili Peppers. Whiskey a Go Go and The Roxy are also worth checking out and all have celebrity clientele drop in. The best news is that all the main nightspots are within walking distance of each other, so a night on the town won't involve costly cab fares.
Pampering
After a few days of shopping and partying, you'll be ready for some pampering. Although Kate Hudson and Halle Berry may not flinch at shelling out US$120 for a 50-minute massage at spas such as Kinara and Voda, the rest of us may just have to make do with a long, hot bath in the hotel. At least you can recreate that Oscar-night feel with a visit to Makeup Mandy. She regularly does the hair and make-up for celebrities' red-carpet appearances and a set of party eyelashes that last a week are just US$50 (mine are still going strong).
See visitwesthollywood.com and visitcalifornia.com.au.
Rob McFarland was a guest of V Australia and West Hollywood Marketing & Visitors Bureau.