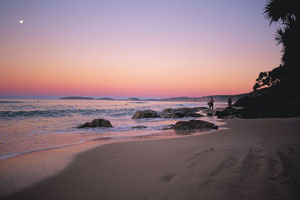 Rainbow Beach is so laid back that visitors feel positively overdressed in their bare feet.
Anything more than a pair of thongs and frayed shorts is considered formal at this Cooloola Coast, southeast Queensland holiday spot.
Even the local licensed clubs have relaxed dress rules to cater for the informal camping set who make up the bulk of the holidaymakers.
Many come here in their four-wheel-drive vehicles to tackle the beach highway of the Great Sandy National Park. Rainbow Beach is also the jumping off place for 4WDs barging to Fraser Island. But the place is now a destination in itself.
Rainbow Beach didn't become a town until 1966. Until then, it and its sister town across the inlet, Tin Can Bay, were isolated communities favoured by surfers and fishermen. The nearest large town is Gympie, about 70km away.
The region was pioneered by timber loggers who came for the fine timber more than a century ago.
They were followed in the 1970s by sand miners who built roads and houses. Titanium from here is said to have been used to build the first spacecraft to land on the moon.
Now the town has a population of around 1000 which swells to many thousands in peak holiday times. Adventure is usually on their minds with the town offering a range of challenging activities including skydiving, hang-gliding, paragliding, sea kayaking, and scuba diving among grey nurse sharks, as well as surfing, especially on Double Island Point's legendary right-hand point break.
Or you can just relax, veg out, and enjoy walking and birdwatching.
In the holiday season, tents and caravans jostle for space along the Cooloola beach strip of the Great Sandy National Park.
Of course, not all accommodation in Rainbow Beach now is tented. You can stay at The Plantation Resort, the newest luxury boutique resort in the centre of town. Opened two years ago, it replaced the old and much-loved Rainbow Beach Hotel which had passed its use-by date. The new hotel has been built in Queensland style with verandas and lots of polished timber. Guests can enjoy dinner from the first-floor veranda (try the Tasmanian mussels and wagyu steaks).
If you want to explore this area then Glenn Wiggins, who runs a store selling ice, bait, tackle and other camping needs, is your man. Glenn also operates Surf & Sand Safaris Escape which gives half-day tours of the Cooloola section of the park and the famed coloured sands which give the town its name.
Glenn Takes visitors in his 4WD deep into the Cooloola park on a 48km round trip that takesin the coloured sands and the Double Island Point lighthouse a 2km uphill walk from the beach - though you can drive - a great place from which to spot whales.
The lighthouse has been shining its beacon since 1884, powered first by kerosene and now by solar power.
Off the lighthouse point is Wolf Rock, a formation of four volcanic pinnacles, home to breeding grey nurse sharks and other fish. It is rated one of Australia's top 10 dive spots and was a favourite of the late wildlife champion Steve Irwin.
It's a good idea to stop at the tidy, well-maintained Freshwater picnic ground for morning tea, watched by some large, scavenging lizards.
Glenn will show you the fabulous coloured sand cliffs which stretch for kilometres along the bay. As many as 40 colours can be seen in the sand, stained over centuries by a variety of minerals.
Nearer Rainbow Beach is the Carlo sandblow, named by Captain Cook for one of his deckhands. Its sandmass, 100m takeoff and soarable ridge of 12km make it one of the 10 best Queensland sites for hang-gliding and parasailing.
Another sidetrip is the ferry cruise from Carlo Point to Tin Can Bay to watch wild dolphins being fed. Indo-Pacific humpback dolphins have been coming into Tin Can Bay's Norman Point boat ramp for decades. It is one of the few places in Australia where people can legally handfeed wild dolphins. This is a must for parents and grandparents with kids.
Today, a 21-year-old male dolphin, Mystique, has shown up and several dozen visitors - among the 40,000 visitors here annually - enjoy the ritual of feeding him (at A$5-$6 each).
A team of volunteers runs the feeding programme every day of the year. There are strict rules to avoid frightening the animals, passing on human disease or making them dependent on handouts. But, of course, photos are welcome.
CHECKLIST
Further information: To find out about Surf & Sand Safaris Escapes see surfandsandsafaris.com.
- AAP