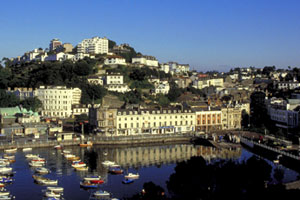 The Fairmile pleasure cruiser was full. And there was no mystery why. The weather along the River Dart was perfect and all the passengers on board shared one abiding passion: Murder Most Foul. They all wanted to pay homage to their queen.
The National Trust of Britain has opened Dame Agatha Christie's waterfront holiday home in Galmpton, south Devon, on the English Riviera.
The great detective writer, creator of genteel supersleuth Miss Marple and Hercule Poirot, "the dapper little Belgian detective with the egg-shaped head", lived at Greenway with her second husband, Sir Max Mallowan, every summer from 1938 to her death in 1976.
Naturally everyone on board the daily Greenway House Sea and River Voyage was an Agatha Christie expert.
"She never wrote a single book here and she wrote 80 altogether," said one Australian fan as we moored in front of the famous Georgian building flanked by Monterey pines, camellias and rhododendron.
Inside the house, all that remains of the prolific crime writer is a gardening hat and scarf and her collection of shell artwork, although the house's elegant drawing room does have pottery collected by her parents and grandmother.
But all of Devon is Agatha Christie land and every September (12-19 this year) the country remembers its favourite daughter with a festival including river cruises, bus tours, whodunnit mystery evenings, talks, walks, tea dances and dinners.
Torquay also has an Agatha Christie Mile sightseeing route which you can do at your leisure or in the company of a guide. This is where Agatha Mary Clarissa Miller was born, in Barton Rd, Torquay, living for most of her first 50 years in Ashfield, a large Victorian mansion on Mount Stuart. The house, whose greenhouse Christie describes in Postern of Fate, was demolished in 1962.
Agatha's father, Frederick Miller, was an American and a man of independent means kept by his grandparents. Agatha loved him greatly. He died when she was only 11. Her mother, Clara, was English and aristocratic.
Agatha learned to read at the age of three - in an age when most children didn't start until eight - and her first published piece, a poem about electric trams, appeared in a London newspaper when she was 11.
Christie's first novel The Mysterious Affair At Styles was published in 1920 and earned her £26. It was the first appearance of Poirot whose "little grey cells" were to be taxed in a further 33 books.
"She got Miss Marple and Poirot wrong," Torquay Blue Badge guide and Christie expert Joan Stott informed me.
"They were old when they started and ancient when they finished. They would have been over 100 yet they were still solving crimes and unravelling mysteries. After all Miss Marple was created in Murder at the Vicarage in 1930 and solved her last case in 1976 in Sleeping Murder."
The name Marple came from Marple Hall in Cheshire but the character was probably modelled on Agatha's eccentric grandmother. Poirot was inspired by the Belgian refugees who came to Torquay.
There is a permanent exhibition in Torquay's Town Hall where the young Agatha worked when it was a Red Cross Hospital. Her service certificate is on show ("Hours worked: 3400").
"It was in the dispensary that she learned about poisons," says museum manager Carl Smith.
"It was also where she started writing, encouraged by her sister, Madge."
On a tour the trivia comes thick and fast. Agatha collected fluffy monkeys. Poirot appeared on a Nicaraguan postage stamp celebrating the centenary of Interpol. Agatha found writing "a chore". She drank alcohol only once, a bottle of beer, to shock an irritating Fundamentalist. Once she held a Poodle Party where guests came dressed as dogs.
There are also plenty of buildings with Christie connections. The Edwardian Imperial Hotel features in The Majestic Peril At End House and the terrace appears in The Body In The Library. The parents of David Suchet (who plays Poirot in the award-winning television series) once owned a top floor flat there. The Grand Hotel is where Agatha had a one-night honeymoon after her first marriage in 1914.
Christie explored Devon and the south Hampshire countryside in her Morris Cowley car looking for inspiration. Fifteen of her books are either set in Devon or have specific connections with the county.
Some connections are surprising. Like Torquay golf course where she was proposed to by Major Reggie Lucy while he was giving her a golf lesson.
Lady Mallowan, as she became, died on January 12 1976 and is buried in Cholsey, Oxfordshire near her last home in Wallingford.
But Devon was where her heart lay and it is where her bronze bust now stands, taking pride of place on Cary Green.
The Christie family did not want their "Aggie" commemorated anywhere else in the world but the English Riviera.
CHECKLIST
For general information on visiting Devon see visitdevon.co.uk.