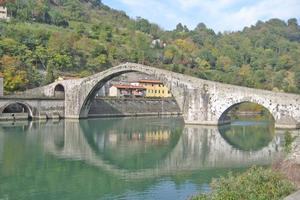 On the bus into Lucca, Hannibal Lecter is having difficulty with his mask, which has come apart at the seams. He asks the woman sitting next to him whether she has a needle and thread, and deftly fashions some repairs. Wonder Woman gives him the once over, winks and adjusts her cape.
The Flintstones, occupying the first three rows of seats, chat to Star Wars stormtroopers. "Yabba dabba doo" sounds the same in Italian as it does in English.
Ahead of us the Lucca's impressive 500-year-old city walls loom large. But the balustrades where thousands of visitors traditionally amble and cycle are thick with Transformers, goblins, ghosts, and Batman resplendent in soft black leather with giant wings. In this surreal setting, nothing is unexpected, except perhaps a Chiefs rugby shirt glimpsed among the throng.
This is Lucca but not as we know it. The city better known throughout the world as a centre of art, opera and history resembles Sydney during Mardis Gras.
It has transmogrified into City of Comics for the Lucca Comics and Games Festival and for four days will be the playground for 85,000 comic book characters and gamers, who gather yearly to swap stories, trade merchandise and admire each other's finery.
Outside San Romano, a magnificent baroque church, a woman in a military uniform wearing 15cm platform heels and blonde curls beneath her cap squeezes between two of Italy's finest law enforcement officers and cheekily pecks one on the cheek.
The festival is spectacular. But if you don't know your Will Eisner from your Stan Lee, and you haven't packed your fishnets, you should probably leave town.
Bagni di Lucca, about 40 minutes north of Lucca, is the obvious alternative. It is not much more than a hamlet but a more spectacular spot you will be hard-pushed to find. Set among the Apennine Mountains where the River Serchio meets the Lima Stream, Bagni di Lucca is only 152m above sea level but it feels a lot higher.
The Anglo Saxons, who were the first to discover it, refer to it as the Switzerland of Tuscany. Its thermal springs have been a drawcard since the 11th century and have attracted distinguished nobles from all parts of Europe.
The poets Byron, Shelley and Browning and writer Alexandre Dumas have all taken the waters here as have Strauss, Listz, and Puccini and regents sucj as Queen Margherita, not to mention several saints and popes.
In the 19th century, during the French occupation, Bagni di Lucca became the summer residence of Napoleon's court and of his sister Elisa Baciocchi. A casino was built at that time and offered gambling rooms and dancing. It is claimed that roulette was invented here. Chances are today you will also see a famous face as you wander through the (very short) main street or shop at the market.
Inevitably, the town has also been discovered in more recent times by those who are attracted by its charms and never leave. One of them is Jaqueline Varela, 30, who was born in Cape Verde, off the coast of Africa, but raised in Rome by her parents.
She stumbled upon Bagni di Lucca three years ago and returned a year later to open a business. Her tiny bookshop, Jaqueline's, has become a meeting place for locals and tourists. Here you can rent or buy secondhand books, buy locally made clay-fired pottery, use the internet and meet the locals.
Jaqueline's friend Paola Moschini, 28, has lived in Bagni di Lucca all her life although she studied in Pisa and England. She says the town's beauty is taken for granted by locals. "It's just where we live."
Jaqueline, whose partner Jake Cartwright is Australian and planning to open an art business next door, says she loves the forests and the way life for locals goes on, even during the high tourist months.
"One of my good friends is 87. She goes to Bar Italia twice a day, every day to meet her friends; once at 11am and again at 6. Nothing changes for her."
The town lacks the tourist trappings of other Tuscan towns. There are no obvious tourist shops and - apart from the ex-pats - few people speak English. Not everyone is impressed though.
Lynn Barber, who writes for the Sunday Times and has become more famous since the release of the film An Education, which documents her life as a precocious teenager, was underwhelmed after spending a night in a hotel where lorries roared past her bed at midnight. However, she did like "the chestnut woods and fabulous views of peaks above and foothills below".
Two Britons, who visit Jaqueline's while I am there, are more effusive and have already decided to buy homes, perhaps influenced by the poet Heinrich Heine, who described Bagni di Lucca as "a true and proper sylvan paradise". Property prices are at the top end of the Tuscan scale.
There are many reasons to base yourself in Bagni di Lucca, while in Tuscany. The town is easy to get around and easy to reach, unlike Lucca at peak times; it is close to some of the most attractive mountain towns in the region, and less than two hours from that tourist mecca, Cinque Terre; but more importantly just a stone's throw from what must be the most beautiful bridge in the world, Ponte della Maddalena or (unfathomably) Ponte del Diavolo (Devil's Bridge). Built in the 12th century, the bridge, with its lofty asymmetric arches, was a vital crossing for medieval pilgrims making the trip from Canterbury to Rome.
Still, it is the warm waters that bring most folk to Bagni di Lucca.
A total of 19 hot springs flow from the foot of the nearby hills.
The natural steam grottos where temperatures range from 40C-47C attract the fit and the flabby. There are treatments for everything from acne to infertility, silicosis (disease of the lungs) to periodontitus (inflamed tooth tissue). Italian physician Gabriel Fallopius even credited the springs with curing his deafness in 1569.
Today, visitors can be detoxed, massaged or dipped in a bath of mud, red grapes, chestnuts or chocolate.
I preferred to walk in the hills but you can also mountain bike, paraglide from the top of Prato Fiorito or horseback ride through the mountain trails.
The best time to visit is autumn when the colours are rich and the crowds have left.
CHECKLIST
Getting there: Trains run to Bagni di Lucca from Pisa Centrale and Lucca. From Pisa airport you will need to change at Pisa Centrale, and sometimes again at Lucca. From Florence change at Lucca. See trenitalia.it for timetable. Bagni di Lucca is 27km from Lucca by road.
Where to stay: There are many hotels and villas to rent. Prices are cheaper from October 1.
Things to see:
Ponte della Catene: Chain bridge built in 1840 connects Fornoli and Chifenti over the River Lima.
The Casino: The first licensed casino built in Europe (1835); allegedly where roulette was invented.
Ospedale Demidoff and Tempietto Demidoff (1828): Historic house and neo-classical temple.
Orrido di Botri: A deep, narrow gorge that is home to wide range of plant and animal life.
Monte Prato Fiorito: The largest of the mountains surrounding the town at 1297m. There is a café usually open during summer.
Further information: See valdilima.com.