Jill Worrall's trip to Bangkok took place ahead of the current unrest.
The New Zealand Ministry of Foreign Affairs and Trade has declared Bangkok an area of 'extreme risk' and is currently advising against all travel to the city.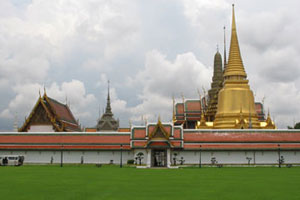 A Persian friend is always telling me that if I want something to happen I need to put out lots of positive thoughts into the universe. I am not sure if this is considered orthodox Shia Islamic thinking but I have tried nonetheless.
I have doubts however, dating back to the many Christmas Eves I kept fruitlessly visualising waking up to find a pony on our front lawn.
But I am beginning to wonder if the reverse is not true.
Did the fact that I was sure weeks in advance that I'd mess up a scavenger hunt in Bangkok sow the seeds for disaster?
How else can I explain the fact that three experienced travel writers, two of whom have also been overseas tour guides, ended up on an almost deserted railway station drinking beer instead of being dazzled by the Buddhist bling around the Grand Palace?
There are other reasons to explain our failure but let me set the scene first.
There were five of us Kiwi travel writers in Bangkok on a week-long tour to coincide with the 50th anniversary of the Tourism Authority of Thailand.
The scavenger hunt is the first item on our itinerary and to be honest no-one is keen - there's a feeling that maybe we'd be better employed roaming Bangkok looking for off-the-beaten track travel stories.
But we've signed a document that we will do everything on our itinerary (and that we won't do a few other things besides ... heaven forbid that journalists would even think of such debauchery) so we've all shown up ready to play.
Our escort has divided us into two teams of three each. The other team includes someone who visits Bangkok many times a year ... something of a bonus for them we thought.
We all pore over our first cryptic clue but before our team is quite ready the opposition is out the door. Given their leader, he with the local knowledge, is striding out purposefully we opt to follow them and keep working on solving the riddle as we go. Our first mistake.
The man in each team seems to have assumed the role of leader. This does not bode well for us females who had earlier resolved not to take the whole thing too seriously and most importantly not to get too sweaty. Male pride is now at stake - we will be sweating.
Outside the air-conditioned peaceful and elegant haven of the Sukhothai Hotel Bangkok is already sweltering on a summer's morning.
At Lumphini Park, the lungs of the city, the early morning tai-chi sessions are coming to a graceful conclusion. We steam past, heading for the metro station.
We meet the other team beside the ticket vending machine. They bolt for the train but we are close behind them and now confident we are on the right track so to speak.
Sadly it turns out their leader has chosen the wrong underground station. Shortly after however, while they hide under the escalator to avoid detection they realise their mistake.
Unfortunately we don't know this and set off on a train heading in the wrong direction.
Bangkok's metro is sleek, cheap, easy to use and air-conditioned - a boon for Kiwi tourists.
The fact that we ended up at an obscure station beside a motorway overpass and with a growing conviction that we were now lost, bears no reflection on the efficacy of the system.
We know we are looking for a railway station and our map indicates one nearby. Sadly for us, the map is folded in half (our second mistake).
If we'd opened it up we'd have discovered Bangkok's main station, the answer to the first clue, was at the other end of the line. We finally worked this out over a Singha beer on the rather rural little station that we eventually reached, dripping with sweat and with two team members close to rebellion. The Sukhothahi Hotel after-all has an exceptionally nice swimming pool.
But we decide on one last push having realised our mistake. We hurtle through Bangkok's streets in one of its new generation of rather posh tuk-tuks and plunge into the crowded concourse. The presence of a Thal movie crew adds to the confusion and the heat.
Miraculously our escort is still waiting for us, looking stressed. We point out that although we were technically lost in Scavenger Hunt terms, we knew where we were, were in no danger of being abducted by white slavers, had already executed Plan A (the beer) and had Plan B (retire to pool) at the ready.
It was no good though.
We were failures and so far behind the other team that there was no second clue for us. We were ignominiously bundled into the tour van and taken to lunch being told on the way that we were the first team ever to get lost.
I cringed with shame and wished I'd had two beers to dull the pain. At lunch the winning team's leader seemed to be eating his noodles in a particularly smug way.
If we'd stayed the course we'd have visited the Grand Palace, Chinatown and Wat Po. All essential Bangkok sites.
But instead we'd had a tuk-tuk ride at break-neck speed, had conversations with several friendly but slightly bewildered Thais en route, downed a beer where few tourists had been before and investigated thoroughly the environs of the Phetchaburi underground Station.
I'd still got a story though and a reminder that maybe there's something to be said for having a positive state of mind...
* Jill Worrall travelled to Thailand courtesy of Thai Airways and the Tourism Authority of Thailand. She stayed at the Sukhothai and Mandarin Oriental hotels.