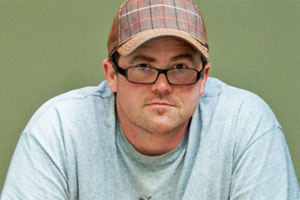 Do you travel light or heavy?
As a DJ, I'm normally travelling with records, and that uses up most of my baggage allowance. So, I'm forced to travel light as far as clothes and personal effects go.
Cattle or first class?
Back of the plane with the rest of the animals.
I can't travel without ...
A toothbrush is always a good idea.
What type of suitcase do you carry?
A flight case for my records.
What's always in your hand luggage?
More records! I carry my seven-inches on board.
Are you a planner or last-minute packer?
Planning ahead of time keeps me from packing a sad when I'm inevitably late getting to the airport.
What's the best thing you've brought back from a trip?
Perspective.
Favourite or most exciting airport to land in?
Los Angeles, because my family will be there to meet me when I land.
Most memorable trip?
Samoa in 2004 to shoot a music video for Tha Feelstyle with Chris Graham.
What do you do while on the plane?
Read the inflight magazine 10 times and wish I'd remembered to bring my book.
Andy Morton is a NZ producer/DJ who is performing at People In Your Neighbourhood on Thursday May 13 at the Erupt Festival in Taupo, and on Saturday May 15 in Wellington. See www.piyn.net for more information.