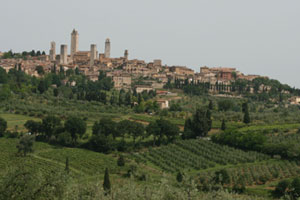 My friend and I are travelling to a June wedding in Florence this year where we'll be for 12 days. Could you recommend a not-so-well travelled route as we intend to hire a car to explore Tuscany after the wedding. Also, would you suggest pre-booking our accommodation?
- Jude Wicks
Alison Bing, author of Lonely Planet's Italy, Tuscany & Umbria, Venice & Veneto guides, writes:
Viva i sposi! Congratulations to the happy couple, and to you on your invite to a fabulous June wedding in Tuscany.
Everywhere in Tuscany is well-travelled - especially in summertime - but after Florence, anywhere will seem comparatively peaceful, even the hubs of Siena and Lucca.
There's a reason visitors from around the world have flocked to these striking walled towns for the past seven centuries: until you see those crenellated stone towers rising above fields of sunflowers with your own eyes, it's hard to believe such places exist outside fairy tales.
Though you may not have Tuscany all to yourself, there is an upside: if you plan your itinerary around your favorite pastimes, you're sure to encounter local residents and fellow travellers who share your passions.
Whether you're an art aficionado or frankly prefer summer blockbusters, you won't want to miss the action-packed scenes of Abrogio Lorenzetti's Good and Bad Government in Siena's town hall, Taddeo di Bartolo's fiendish frescoes of tortured souls in the medieval walled town of San Gimignano northwest of Siena, and in Arezzo east of Siena, Piero della Francesca's dramatic fresco retelling of the Legend of the True Cross with lighting worthy of Hitchcock.
Gardeners are bound to find inspiration in the blooming country estates east of Lucca, including the formal Tuscan gardens of Villa Reale planted by Napoleon's sister Elisa, the fragrant 100-year-old lemon grove at neoclassical Villa Grabau, and the terraced open-air theatre and butterfly house of Storico Giardino Garzoni.
Food and drink are in no short supply in Tuscany, where the patchwork of fields kept entire Roman legions suitably satiated and sedated with prized wines for centuries. Follow your tastebuds to discover white gold in these hills: San Miniato white truffles in their namesake village outside Florence; chianina, the prized white beef cattle of the southern Maremma that easily upstages steak Florentine; and lardo di Colonnata, the cured "white bacon" (read: lard) from the tiny village of Colonnata whose scintillating shimmer rivals the famous white marble of neighbouring Carrarra.
Wine aficionados make a beeline from Siena south to the Sienese hilltop stronghold of Montalcino for tastings of the highly collectible Brunello, then head eastward to the Florentine fortress of Montepulciano, perched improbably atop a volcanic crag, presumably to keep the Sienese away from the town's eponymous Vino Nobile.
To the southwest in Etruscan Scansano, you'll find the dark horse of Tuscan wines: Morellino di Scansano, seldom exported because it's so locally beloved.
Hang out long enough in the Etruscan hill towns of southern Tuscany and you might even find a Lonely Planet author to buy you a drink - the hills are lousy with us that time of year. Cin-cin.
Win a Lonely Planet guide book
Get the information you need to make your big trip a success. Email your travel questions to travel.info@lonelyplanet.com and they'll be answered by Lonely Planet's experts.
In addition the best question each week will earn a Lonely Planet guide book.
To give yourself a chance to win add your postal address and the guide book you'd like to receive. You can find out about Lonely Planet books at LonelyPlanet.com. Not all questions are necessarily answered and Lonely Planet cannot correspond directly with readers, or give advice outside the column.