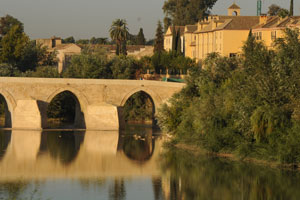 If you drilled a hole through the earth in Hamilton's Garden Place, and kept going, you would emerge close to Plaza de Corredera in downtown Cordoba. Blink, shake off the dirt, then slake your thirst with a beer in one of the nearby bars and enjoy a rich tapas feast.
Both cities are inland and built on the edge of a river, neither are huge - Hamilton with 130,000 people and Cordoba with 230,000 - and that is probably where the similarities end.
Hamilton is surrounded by eons of green fields and dairy cows and Cordoba, with a hotter, drier climate, specialises in growing olive trees - endless rows making striped patterns on the distant hills.
History is Cordoba's main attraction, 2000 years of it, and it's everywhere. The cab from the railway station to the hotel passes a cluster of marble columns, "a Roman temple", the driver explains.
He's young and handsome with oodles of Spanish charm and drives a gleaming Mercedes he shares with his father.
"You can't put a stick in the ground here without getting permission from the archaeological department."
But he is proud of his city and points out other things of historic interest as we pass.
The old city is compact and easy to walk around. The lanes, first laid out by Romans 2000 years ago, are tiny and cobbled. Most are too small for cars and when cars try to navigate them we flatten ourselves into doorways to let them pass.
Doors open straight on to the street and, in the afternoon, many are open, revealing courtyard gardens with palms, wall mosaics and tinkling fountains. Cascades of scarlet bougainvillea hang over white walls and jasmine sweetens the air.
Cordobans are crazy about orange trees; they grow in pots in courtyards, in rows around plazas and they are topiaried into lollipop shapes in the city gardens. In spring, the city smells of orange blossom.
Many roads lead to the Roman bridge across the Guadalquivir River. Actually, it's only the stone foundation that dates back to Roman times, the arches and the road on top are newer. Now it's reserved for pedestrians and is a glorious place to amble in the afternoon. There is a Virgin Mary and a little shrine in the middle and a 600-year-old tower guards the east end.
The bridge is a superb platform for watching birds that frequent rocky, willowy islands in the middle of the river; storks, ibis, ducks and pigeons by the hundreds drink, feed and frolic in the shallows. It's a great place for people watching, too, when Cordobans come out for a sunset stroll.
The senoritas squeeze into tight bright trousers and totter on high heels, senoras go for a more casual approach with jeans and cotton shirts and little girls are spruced-up in pretty dresses. People meet, chat, laugh and admire each other's babies and the children run around in twittering flocks.
Near the river, above the bridge, is Cordoba's most-treasured attraction, the Mezquita, the Great Mosque. It dates back 12 centuries, to the time when this city was the Islamic power-centre of Spain. By the 10th century Cordoba had a population of 400,000, was the biggest city in Europe, possibly the world, and was a significant cultural, political and intellectual hub.
Work on the mosque began in 784 and it was added to for 200 years reaching its current dimensions, 23,000sq m, in 988. Inside, it's a forest of columns and arches, fancifully interlaced and thematically echoed in different parts of the Mezquita.
They have a structural job, holding up the massive roof, but this seems secondary and arches become a three-dimensional art work, an architectural poem that changes as one passes and light catches different angles, layers and details.
The colours are warm, earthy shades; deep reds and honey tones, with glints of gold. Here and there, discretely placed, there are patches of blue, the colour of paradise. The decorative detail includes exquisite combinations of inlaid semi-precious stones, marble and jasper mosaics, carved curvaceous floral and plant patterns alternated with hard-lined geometric patterns and swirling Arabic calligraphy in gold.
In the middle of this elegant Islamic beauty, in 1523, when Christian kings had long defeated Islamic ones, the Catholic Church inserted a renaissance Italian-style cathedral.
The building of it was controversial, with the town council defying the church and forbidding its construction. Finally, Emperor Charles V interceded and signed-off the project, something he later regretted, with his much-quoted statement to church authorities, "you have destroyed something unique in the world and put in its place something you can see everywhere".
But the cathedral is ornately magnificent, with a high nave and dome thrust through the heart of the mosque. The exterior has fortress-like walls and the old town, with little lanes and white-painted buildings, is clustered around it.
A cellist positions himself by one of the ancient arched doors and plays. This gentleman seems so intent on his music that he doesn't notice the coins dropping into his bag or the tears on the faces of listeners when his version of Ave Maria triggers memories.
Eating late is the mode and when we wander to Plaza de Corredera at 9.30 the restaurants are just getting into the swing of things. The menu seems irresistibly cheap, so we settle in for a long meal. The food is rich and drenched in olive oil, the wine cheap and crisp.
The hot day has relaxed into a balmy night. Children still run around, periodically zooming back to the adults who are eating and talking. The scene is casual, comfortable and happy.
Cordoba wears its history well, its longevity gives it confidence and style; it's so utterly civilised.
IF YOU GO
By air: Cathay Pacific flies to Paris and London from Auckland every day.
By rail: Take the Elipsos night train from Paris to Madrid; it's comfortable, fun and saves a night's accommodation. If you fly into Madrid, the AVE, Spain's superb fast train service, links Madrid to Cordoba 22 times a day. Visit railplus.co.nz or phone (09) 377 5415.
When to go: October through to May. The summer months - June, July, August and September - are too hot.
- DETOURS