Two rural and two seaside favourites make Paul Jobin's list of great North Island cafes.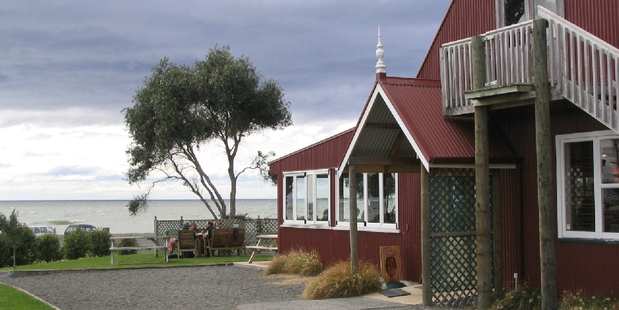 Let me introduce Jenni the dog. She lives happily near Cape Kidnappers in Hawkes Bay, sitting on a corner of a busy narrow road observing visitors arriving to sample the charms of the 150-year-old Clifton Station.
The guests arrive by every kind of transport you could imagine - Clydesdales, helicopters, cars and boats. And once guardian Jenni has given her approval, the guests pull up in front of the open bifold windows of Clifton Bay Cafe.
In 1859, James Gillespie Gordon bought 13,500 acres from the Crown for 3375, stretching from Clifton to the Cape and down to beautiful Ocean Beach. Today, the now-2000 acre home block is owned by the sixth generation of the Gordon family - Angus and Dinah, who help run the Woolworld live farming on Clifton Station as well as the cafe.
It's picked up some very loyal customers in its 11-year-history, including one 102-year-old who regularly drives to the cafe for her fix of local Hawthorne Espresso Coffee and a stack of famous corn fritters.
The popular cafe - which prepares up to 300 meals and 200 coffees on its busiest Sundays - has stunning panoramic views from the Kaweka Ranges to Napier's Bluff Hill and up to Mahia Peninsula, and it's a stone's throw from Kim Crawford and Clearview Estate vineyards.
Instead of a faithful dog, the animal guardian at the Colenso Country Cafe at Whenuakite, on the Coromandel Peninsula near Hahei, was, on my visit, a a wild Captain Cooker pig devouring windfall plums. Colenso began life as a small dairy farm with plantings of citrus, peaches and 1800 tamarillo trees, which were unfortunately hammered by their first winter frosts.
Needing a back-up plan to keep their heads above water, owners Ruth and Andy Pettit turned first to squeezing fresh orange juice, then opened the cafe and gallery shop. That was 21 years ago, and now this Coromandel Peninsula gem, listed in Lonely Planet, has a global following, with fans in Germany, France, Australia and a Canadian regular who makes a trip to New Zealand in large part for an annual fix of fresh tomato soup with snipped herbs from the orchard garden.
Colenso's success relies on its blackboard menu, inspired by produce from the farmers' market.
Picture yourself sitting under a plum tree canopy with sun peaking through the branches, savouring a spinach and feta pie with homemade tamarillo chutney, a pavlova stack toppling with berries and a shot of Atomic coffee. Heaven.
The drive to the Boatshed Cafe at Rawene, at the headwaters of Hokianga Harbour, would be worth the trip even if the coffee wasn't so good.
Framed by spectacular 300m sand dunes and hemmed in by shallow waters filled with mangroves, Rawene is a quaint township of immaculately maintained historic buildings. The cafe is, as you may expect from the name, built out over the water, and serves a vast array of home-baked goodies under dome lids.
Or you could choose from the menu, which offers treats such as the smoked chicken salad I enjoyed, served with pawpaw, curry dressing, crispy noodles and fresh herbs from the home garden of owners Craig and Kirsty Joiner.
There's also an art gallery here, making it the perfect place to pause on any journey north. Across the ferry from Rawene in Kohukohu, I eat the freshest flounder ever cooked with hand-cut fries and salad greens at the Waterline Cafe.
The history of Kohukohu begins with a visit from Kupe on his return voyage to Hawaiiki. Angry at the food from the hangi being insufficiently cooked, he cursed those responsible, using the word "kohu".
If only Waterline Cafe (2 Beach Rd, Far North) had been around then, Kupe would have been much more impressed. The food was so good I went back for a dinner of slow-roasted pork belly and local Marsden Estate Pinotage, all at very reasonable prices, and with the water lapping gently under the deck.
With an emphasis again on keeping things local, owner Maryellen sources oysters and seafood from Kaitaia market and brings in local musicians to entertain her diners (the Waterline was chosen as an arts council venue for exposing upcoming artists).
Maryellen also cooks, serves and even finds a spare moment to make homemade pickles and gourmet pies, while her daughter Kate handles the espresso machine like a master.
They note that the coffee needs to be good, as it's usually the last thing customers have before they leave - so it's how they remember the cafe.
It's a good point. And it's a good coffee - the perfect way to end my mini-tour of great North Island cafes.