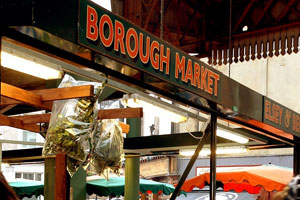 How many breakfasts is too many? If there is an upper limit, London's Borough Market is probably the place you'll find it - and stretch it.
There has been a market here in Southwark for almost 1000 years (2014 is the millennial anniversary); it has long been a hub where Londoners meet, eat and, of course, shop.
The bustling network of stalls and shops, nestled under a railway bridge, is open three days a week, but it's Saturdays when this place really comes alive. Its popularity has ebbed and flowed over the years, but in the 21st century, largely thanks to your Jamie Olivers and Heston Blumenthals, the market has found renewed vigour as a flashpoint for the renewed British passion for fresh, quality food.
Come Saturdays it is a teeming throng of hungry, thirsty shoppers and cooks of all skill levels, elbowing each other - mostly good-naturedly - around the stands of produce and takeaways; often with butter dripping from their chins, licking pastry crumbs from their fingers or smacking their lips over the strongest Stiltons. Trendy wicker baskets are filled to bursting with fresh breads, boutique cheeses, fresh fish, aromatic spices, artisan oils, homemade preserves or vinegars and free-range meat.
There appears to be food representing every ethnic group in the UK and it quickly becomes clear the biggest insult you could pay this historic place is to eat before you get there.
You may think you'll swing by to pick up an organic carrot and a leaf or two of spinach, but what you will almost inevitably end up doing is grazing your way through a do-it-yourself degustation - for a lot less cash than at a cafe or restaurant.
The sights, sounds and smells on your arrival are overwhelming - hot coffee, hotter curries, sizzling sausages and bubbling soups all compete for your attention, making the choice for breakfast's first course a tricky one.
In the end, though, a plain but light-as-air croissant keeps the hunger pangs at bay before I tuck into an impossible-to-walk-past plate of tender, soft-boiled potatoes with pickles and a smothering of gooey raclette cheese.
As soon as that is done, my head is turned by a vast pan of paella, the subtle spice of paprika and saffron hanging in the air, then an even vaster pan of West Indian chicken curry and a neighbouring pile of good old English pork pies.
Instead, though, I opt for a delicious hot spiced apple cider - the perfect warmer on this crisp autumn morning. And then, just as I'm about to tear myself away, I discover the morning's piece de resistance at Brindisa, a foodie haven for all things Spanish.
Here they are selling spicy chorizo sausage sliced in half, seared on a grill while you wait and served, with warm roasted peppers and tangy rocket, sandwiched in a sourdough roll that melts in your mouth; the sausage sizzle, Spanish-style.
So, in the end, I make do with about four breakfasts - not bad for a Borough beginner. And to finish? That rarest of things in this city, a really good espresso from Monmouth Coffee Co just across the street from Brindisa. I sip it, wondering if it's too early to start lunch.
IF YOU GO
* Borough Markets is a two-minute walk from London Bridge tube station. It is open Thursdays, Fridays and Saturdays, but Saturdays, though the busiest, are the best day to visit. Give yourself at least two hours to wander around.
* If you want to work off the feast, the route to the Thames riverside walk, which can take you all the way to Westminster if you wish, is clearly signposted and worth doing. For more ideas, see visitlondon.co.uk.
Like that? Try this: Most of London's markets have great food sections, particularly at the weekends. Try Covent Garden, Greenwich, Smithfields, or Brixton. And if you're a cheese fan, head to the aptly named Cheese at Leadenhall Market, pictured, where you can sit down to a heavenly cheeseboard and wine under the beautiful domed roof.
Getting there: Cathay Pacific has daily flights from Auckland to London, via Hong Kong.
Kerri Jackson travelled to Britain with assistance from Cathay Pacific and Visit Britain.