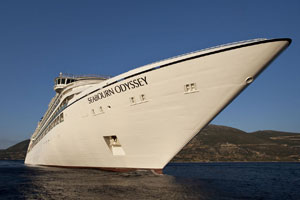 There is something of the Bond villain's superyacht about the Seabourn Odyssey. A panel at the stern slides open to allow jetskis to be deployed and passengers to swim, caged, in the tropical ocean. On formal evenings men in tuxedos and women in spangly frocks glide around clutching cocktails. There's a diamond showroom.
High above the decks twin white domes silently collect data. The bridge bristles with gadgetry. And there are "measures" in place, Captain Mark Dexter assured me, conspiratorially though non-specifically, should the need arise to repel pirates.
Though not, apparently, the measures used on the Odyssey's sister ship, Seabourn Spirit, which arranged for well-muscled French marines to mingle, incognito but poised for action if necessary. They were, of course, sprung instantly. Old ladies fondly hoarded champagne and arranged a party for them when they left piracy-prone waters.
We didn't have any obvious marines on board the Odyssey as she travelled the South China Sea. But there was no call for them. On the nine days I was on board we sailed serenely from Bali to Hong Kong, our horizons untroubled by anything but the odd container ship or palm-spiked island.
The Odyssey is the first new ship for the high-end Seabourn line in more than a decade. She carries 450 passengers - a small number by cruise ship standards - and almost as many crew. All her cabins are suites, and almost all of them have private balconies.
The balcony was something of a treat for me: my only previous cruise was on one of the last voyages of the QE2, where I started off in a pokey inside cabin and was upgraded to one with a small porthole after its previous occupant died. There's no point in being squeamish about these things.
Indeed the QE2 had made me a little sceptical about modern ships. I admired her as the last of the traditional ocean liners, and was quite happy to overlook her cramped decrepitude. New cruise ships, I thought, lacked charisma and looked like floating condos.
Not so the Odyssey, as it turns out. She has an elegant line, which is somehow not compromised by the need to accommodate balconies, viewing decks, open-air restaurants and so on.
My voyage was a short leg of the ship's first world cruise, which started in Florida in early January and finishes in Athens 108 days later on Saturday. There were three stops in New Zealand, including what Captain Dexter describes as a career highlight: taking a ship for the first time into his home port of Lyttleton. The English-born Dexter now lives in landlocked Darfield.
"When you do a job like this," he says, "you don't want to live near the sea."
Joining the Odyssey at Bali demonstrated one of the advantages of a small ship: it can stop at ports inaccessible to others. Embarking by tender I was pleased to note a number of cheerful-looking and beautiful young people coming on board - these turned out to be the crew, who remained cheerful and radiant throughout my time on board. They were also helpful, friendly, and able to mix fine cocktails.
We had two brief stops, both on the island of Borneo. First Bandar Seri Begawan, the capital of Brunei, where a large mosque with a pure gold dome looms over a poor-looking shanty town. Then Kota Kinabalu, in the Malaysian part of Borneo, whose chief attraction according to locals seemed to be the shopping mall (though energetic passengers could go on a variety of jungle and river tours).
The rest of the time passed pleasantly at sea, helped along mightily by free champagne (Perrier-Jouet, no less) and fine food. Seabourn has commissioned chef Charlie Palmer to design its menus. Palmer is well-known in the US for his "progressive American" food, which could be found on board in such elaborate dishes as the lobster martini, lemongrass seafood presse with double-shocked shrimp, and glazed short rib with seared foie gras.
I found this much to my taste, though three other restaurants offered more traditional menus.
Local specialities were featured where possible: for some time after the New Zealand stopovers the house white was a Kim Crawford sauvignon blanc. Seabourn's food was voted best for a cruise line three years in a row in Condé Nast Traveller readers' polls. It is clearly something the company takes seriously.
There is a large spa complex on board, cabaret shows, guest lecturers and so on. But I spent much of my time on my balcony, calling occasionally for more Perrier-Jouet and watching shoals of flying fish soaring improbable distances along our wake. All very pleasant, and not a villain in sight.
CHECKLIST
Further information: Seabourn runs a fleet of four ships, with accommodation for between 280 and 450 passengers, offering cruises in most parts of the world. Current specials include Asian cruises on the Seabourn Pride starting from US$3999 all inclusive per person, share twin. Contact the Seabourn New Zealand Representative, Cruise World on 0800 500 732.
David Balham was a guest of Seabourn and travelled with assistance from Cruise World.