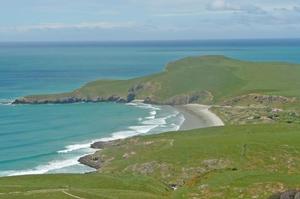 I don't know who gets the bigger surprise. At the precise moment I gaze out of a wildlife-watching hide at the windswept edge of the Otago Peninsula, a New Zealand fur seal pops his head up.
Inter-species eye contact is definitely made, and it's more than a few seconds before either of us averts our eyes.
Moments later outside the hide, I'm witness to a minor territorial dispute as an immense bull fur seal roars and stares down a wannabe contender to his alpha male crown.
A roiling Pacific Ocean provides a dramatic backdrop as huge strands of kelp drift and sway in the southern swell. Just months after returning from the Galapagos Islands, I've discovered a comparable wildlife experience in my own backyard.
One of the country's most accessible fur seal colonies is not the only stellar wildlife attraction at Nature's Wonders, a privately-owned property on the eastern tip of the Otago Peninsula. Spotted shags nest amidst the rocky coastline, and Penguin Beach is home to one of New Zealand's biggest colonies of the rare hoiho or yellow-eyed penguin.
Above the beach, a subtly constructed viewing hide blends in with the cliff, affording close up and personal viewing of the rare birds. No birds are tagged or tested, and with around 60 penguin pairs nesting most years, it's one of the country's most successful breeding programmes.
Nature's Wonders is the passion of Perry Reid, a wiry Southern man with a combination of boundless energy, drive, and the occasional bad pun.
Surveying his property from the 189m 'Maori's Footprint', he reckons "It's a 720 degree view ... It's so good, you need to turn around twice."
And as bad as the joke is, he's actually right, with the vista including gorgeous arcing white sand beaches and the silvery expanse of Otago Harbour stretching across to Aramoana and down to Port Chalmers.
As well as having a potential career in stand-up comedy, the irrepressible Perry's also a whiz at driving an Argo, a compact 8WD vehicle that effortlessly negotiates Nature's Wonders' rugged terrain.
The experience is an exciting blend of theme park ride and outdoor adventure. All the while Perry keeps up his chatter, asking over and over his signature question: "So, what do you think? Great, isn't it?"
It's the kind of blather that could easily be annoying, but Perry's honest charm is both heartfelt and compelling. When he outlines the kilometres of predator-proof fences he's installed, or his plans to plant 17,000 native trees on the property, it's obvious his deep green eco-heart is in the right place.
It's a minor crime most Aucklanders don't even know this place exists.
If you do make it down there, say gidday to a certain curious sea lion for me.
CHECKLIST
Getting there: Nature's Wonders is on the Otago Peninsula. It runs scenic and wildlife-watching trips several times a day throughout the year. The experience is very popular with visiting cruise ship passengers in summer, so booking ahead is recommended.
Costs: $50/$45/$164 for adult/children/family. Phone 0800 246 446, or see natureswonders naturally.com.
Further information: Make a wildlife-watching day of it and also visit the nearby Royal Albatross Colony or take a cruise around Otago Peninsula's Taiaroa Head with Monarch Wildlife Cruises & Tours.
For more information on visiting the Otago Peninsula see otago-peninsula.co.nz.