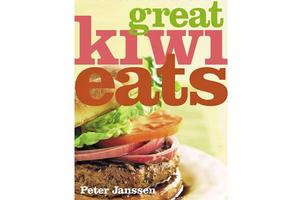 One of the special joys of touring New Zealand these days is the number of places you find that sell great food.
True, there are also quite a few places selling lousy food, but that just makes it an interesting challenge to track down the good ones.
When I arrive somewhere new, one of the first things I usually do is chat to a local or two to find out which are the good places to eat. Failing that, you can walk past the eateries and see which ones are packed. And now you can also check out this book.
Peter Janssen claims he's toured the country finding the best places to buy a chocolate eclair (Danish Delight Bakery, South Dunedin), lamb and kumara pie (Cafe Over the Bay, Paihia), fly cemetery (Five Cross Roads Cake Kitchen, Hamilton), smoked fish pie (Maketu Pies, Maketu), blueberry pancakes (Mamaku Blue, Mamaku), whitebait fritter sandwiches (The Cray Pot, Jackson), date and orange scones (Cafe Hydro, Lake Waitaki), seafood fritter (Smashed Pipi Cafe Bar, Mangawhai) figgy nut slice (Mr Badger's Cafe, Hawera) ... and a lot more.
Needless to say I haven't been to all of the places but I do seem to have tried a surprising number - obviously my intelligence-gathering technique works - and I can confirm that they're good choices ... which bodes well for the ones I haven't been to yet.
The only criticism I'd have is that the book could do with a good index. It's only by luck that I happened to spot the reference to black pudding at the Central Butchery in Kawakawa. And I'm still hoping to find a great pork pie in there somewhere.
* Great Kiwi Eats by Peter Janssen, Harper Collins, $28.99