Great river town, super beach. Liz Light has free fun in Whakatane and Ohope.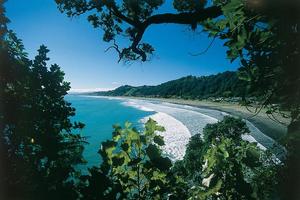 The cosmic beach designer got everything right when Ohope Beach was on the drawing board. It's a 13km-sweep of sand, sea and surf, facing sunny north. It has a wide gently sloping stretch of sand, the surf is usually not too rough for swimming and there are some famous surf breaks for board riders.
It's a much-appreciated playground for the locals. Runners pace out the kilometres, walkers stroll and dogs chase tennis balls and seagulls.
In summer, swimmers, surfers and body boarders enjoy the waves and children play in streams that trail across it. On windy days kites, surfers and blow-carts zoom up and down.
Ohope Beach has something for everyone and on a morning walk I enjoy the bonus of watching a surf club competition. There are all sorts of races involving swimming beyond the breakers, around buoys and back, paddling boards a greater distance, and surfing in on those boards.
The races follow each other like clockwork and watching the people in the competitions fit, fast and with fine strong bodies makes me proud to be a Kiwi.
At the north end of the beach surfers pull on their wetsuits because, as a lad describes it, the waves curving around the headland are "small but fun".
This area, because of a park, public toilets and shady pohutukawa trees, is popular with families and as the day warms up the water fills with people enjoying the waves; diving through them, jumping over them and body surfing. This is old-fashioned family fun.
The walk from Ohope to Whakatane, around the coast and over the hill, starts at the north end of Ohope Beach. To begin, a staunch 10-minute hike takes us to the top of the cliff.
We look back, down along the beach, over simmering sea to the dusky purple mountains of East Cape in the far distance. It's another moment to savour: sometimes we don't stop to notice and appreciate the beauty of this land.
The next stop is a cove totally bedded with shells instead of sand. There are hundreds of millions of them, crunching under foot, sun-bleached and glaring white. I want to stay and fossick through them, finding shell-treasure, but we are only 10 minutes into a two-hour walk.
Otarawairere Bay, a neat half-moon where bush touches the shore, is a rocky headland away. It's deserted by all but a few red-legged gulls trotting along the low-tide line stopping, every now and then, to peck at some small thing. It would be a great place to laze around, admiring one's shell collection perhaps.
It's up hill from here but, luckily, through mature bush so is shady on this hot bright day. Between the feathery crowns of ponga there are glimpses of White Island sitting in bright blue ocean and, as the track heads north, zig-zagging its way along the cliff top, Moutohora Island (Whale Island) comes into view.
Captain Cook sailed past this cliff in November 1769. He named White Island (not very imaginatively because it's white with volcanic ash) and Mt Edgecumbe, the pointed volcano he saw on the plains beyond. This ridge looked very different when he sailed by as there were Maori villages here and a sign shows us how they were laid out.
Near Kohi point the track turns south, the bush is luxurious, green, cool and shrill with cicadas.
There are viewing spots where we look down over Whakatane, its heart and business district wedged between the river and hill and the residential suburbs spreading south west between wide loops of the river.
The track finishes on a quiet residential street and its downhill to town, to lunch and a long cold drink. Whakatane is small enough to easily walk around but big enough to have lots of terrific little cafes and restaurants.
Choices include Italian, Indian, Turkish, Chinese, classy restaurants with fusion cuisine and Wally's for fish and chips.
We sit at outside tables at the wharf shed because the location is unbeatable. It's right on the wharf.
Fishing and tour boats come and go, the talk is of fishing and the sea while we watch children leaping from the wharf into the river.
When the sun is low and the heat fading, I walk along the riverbank. After-work activities are in full swing - cyclists zoom along the river path, runners puff past, children roll laughing down the grassy bank and a woman walks two fluffy little dogs and three fluffier, littler and adorable puppies.
The river is busy too, with rowers, runabouts heading out fishing and there is a crowd gathered on the bank looking at Moko.
Moko is now Whakatane's most famous person.
Actually he's a dolphin, but he thinks he's a person and prefers human company to that water creatures. He spends most of his time in the Whakatane River. Some afternoons he plays with the kids jumping off the big Highway 30 bridge.
Some days he's up near the harbour mouth but today he's behind the town centre fooling about with a girl's paddleboard.
Moko is a star and it's magic to stand on the riverbank and watch his antics as the sun goes down.
It's another moment to savour.
I reflect that although I can't afford the big-ticket entertainments that many people come to Whakatane for visiting White Island, diving, deep-sea fishing I have had a delightful day in this cute town and its beautiful-beach sister over the hill.
And except for lunch, it was all free.
IF YOU GO
Camping grounds:
Ohope Beach Top 10 Holiday Park
Whakatane Holiday Park, by the river, close to town.
Motels:
There are plenty of them in The Strand and Landing Rd.
Food:
Roquette - elegant, contemporary cuisine.
Wharf Shed, great location, great seafood.
Buket Turkish Kebab House. Eat in or take away, good food, great value. Number 113 The Strand.
Wally's fish and chips, The Wharf. Wally the talking parrot adds to the ambience.