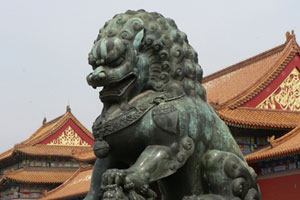 My husband and I are wanting to take our 18 and 14-year-old sons to experience Asia. We only have 10 days available in June/July and are looking at Hong Kong and China. We are keen on Beijing, seeing the Great Wall, the Ming Tombs and the Terracotta Warriors. I am also interested in Shanghai as we would love to see the architecture, art and museum. A stopover in Hong Kong to visit Disneyland is possible, too. Any advice would be appreciated.
Debbie Cope
The Great Wall outside Beijing is a fantastic outing for all ages, so this should be a priority. If you have time, try to weigh up different sections of wall: Mutianyu (a more recently restored chunk) is very different from rawer fragments such as Jiankou, which is indisputably authentic and set in particularly dramatic scenery.
Both of your children should love the three to four-hour Great Wall walk from Jinshanling to Simatai, although summer is very hot so take tonnes of water (and sunscreen).
Tiananmen Square is appealing for all ages, and although the Forbidden City is breathtaking for adults, if you overdo it teenagers may drag their heels. The Ming Tombs hold little appeal for some teenagers and they are difficult to interpret. With its lake and scenic views, the Summer Palace is a great alternative and don't overlook the 798 Art District for contemporary Chinese art.
After, say, three days in Beijing, jump on the overnight train to Shanghai for two to three days. Children will love the view, the Shanghai Museum and the views over the city from the observation decks of the Shanghai World Financial Centre. Try to pop down to nearby Hangzhou for a day so you can hire bikes and cycle round West Lake or go for a climb in the hills north of the lake.
The Terracotta Warriors are in Xi'an - a long, long way from either Beijing or Shanghai, in the west of China. Trooping off to Xi'an for the warriors is a big trip. I recommend instead a trip to climb gorgeous Huang Shan (Yellow Mountains) in Anhui province; you can reach the nearest town (Tunxi) by train from Shanghai or fly in.
En route to Hong Kong, try to stop off at Yongding in Fujian province for the magnificent Hakka roundhouse architecture. You can stay overnight in some of these vast castle-like structures, which once housed entire villages of people. Hong Kong Disneyland is a possibility, although it's perhaps not so much fun for teenagers. Don't overlook the Star Ferry, taking a tram ride on Hong Kong Island and - if they enjoy hiking - getting out into the huge New Territories and exploring the islands.
Transform a travel cliche I am wanting to rent a villa in Italy and also in France next year for about six weeks at each. However, I have heard some horror stories from people who have booked on the net and arrived to find it's a block of several units with noisy neighbours, etc. Have you any suggestions for reliable, honest websites for villas? Also which areas of France and Italy would you recommend for people wanting easy access to food and antique markets?
P McKay
Renting a villa in France or Italy might well be something everyone longs to do - but the travel clich can easily be transformed into a truly unique and memorable experience, with a little imagination and planning. Companies dealing with villa rentals tend to fall into three categories: large aggregator sites, with wide choice but scant service; boutique agencies with a handful of usually upmarket properties and newer social media-style sites that rely on owners to provide information, with user ratings and feedback keeping them honest.
Ask agents if they have seen the property themselves and if so, send them a list of probing questions about the villa's location and condition, as well as requesting floor plans, additional photographs, guest references, extra costs and local tips. Our authors recommend a few agencies in the respective guides, including Cottages and Castles, Ville et Village and Simpson.
Relatively new alternatives VRBO and Homeaway simply list properties, along with guest feedback; you enquire and deal with the owner directly. Cultish AirBnB, while known for its sofa/share listings, also does whole house rentals, with an increasing number of country properties. They also offer some security: payment isn't released to the owner until you've "checked in" and found everything to your liking. We've used both AirBnB and VRBO and found the owners to be scrupulously honest, and charming and thoughtful hosts to boot.
In France, we'd suggest the Languedoc-Roussillon and the Midi-Pyrnes. Both Toulouse and oft-overlooked Montpellier are great for weekly flea markets and antique shopping, and you can daytrip to antique heaven, L'Isle-sur-la-Sorgue near Avignon. Southern Italy (Puglia and Sicily are current favourites) will get you Tuscany and Umbria's rustic landscapes, but without tour buses and smug expats. We highly recommend Little Bookroom's specialist guides to the antique and flea markets of both France and Italy.
Win a Lonely Planet guide book
Get the information you need to make your big trip a success. Email your travel questions to travel.info@lonelyplanet.com and they'll be answered by Lonely Planet's experts.
In addition the best question each week will earn a Lonely Planet guide book.
To give yourself a chance to win add your postal address and the guide book you'd like to receive. You can find out about Lonely Planet books at LonelyPlanet.com. Not all questions are necessarily answered and Lonely Planet cannot correspond directly with readers, or give advice outside the column.