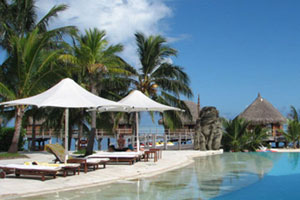 This blog is going to finish today beside the Moorea lagoon in French Polynesia, I promise.
But first there must be a necessary detour via the emergency department of Timaru Hospital. The two locations have little in common other than that in the last month I have lain prone in both.
Let us go back in time to last year when my husband mentioned that as I was due to celebrate a "Big 0" birthday in early 2010 he wanted to arrange something special for me. It was a lovely idea but as I was full of dread at the thought of this particular birthday I joked that my preferred way to spend the day was in a darkened room accompanied only by a gin and tonic or three.
Ignoring this plea as yet another example of Worrall melodrama, and assisted by a travel agent friend, he instead organised a five-night famil to French Polynesia.
All I had to do was write about it on my return and endure a further two days in an overwater bungalow as my extra birthday present from him.
And best of all, he was coming too.
I had to admit it sounded slightly more alluring than my G&T scenario. I even bought a new pair of jandals in anticipation ... then I started to feel vaguely ill. Then very ill. Feverish, sweating, nauseated, struck with strange abdominal pains and with a fiendishly sore throat. No one could work out what was wrong with me so I was admitted to hospital.
Various teams, surgical and medical visited me with furrowed brows. A young house surgeon stared intently at me ... I braced myself for a diagnosis.
"Aren't you the travel writer who's just been in the Sahara and Egypt?" he asked.
I admitted I was. Everyone, but me brightened up suddenly. Tests were ordered. I was given information sheets on malaria, bilharzias and sundry other exotic diseases.
I was quizzed about my lifestyle and trying to be honest said I might in a week drink the equivalent of five glasses of wine. I actually rounded up. The young house surgeon looked at me over the top of his clipboard but said no more.
A day later I was sent home, still confounding medical science, other than I had an extremely unhappy liver.
I was instructed on how to go about carrying out various unmentionable tests to see if I had brought home any interesting parasitic souvenirs from my travels. The house surgeon at this point added: " Don';t forget, she drinks."
"Ah yes," said his boss "No alcohol at all until your liver is back to normal. And I am afraid you can't go to Tahiti at the moment because we might have to take out your gall bladder."
The hospital told me later that my efforts to be over-honest about my alcohol consumption had backfired slightly.
"Normally we triple whatever someone tells us they drink..."
And so it came to pass that I celebrated my birthday not in an overwater bungalow with a glass of champagne but somewhat shakily with a glass of sparking elderflower and the news that I had contracted a serious case of glandular fever "unusual at your age..." the doctor commented helpfully.
The house surgeon, who had re-read the article about my encounter with a rampant Tuareg guide regarded me speculatively.
While my friends and family sniggered about kissing disease I pointed out that the experts were sure I had contracted glandular fever in New Zealand, in all likelihood from as something as simple and (and chaste) as an unwashed glass. Then I would collapse back on to the couch, try to spoon jelly down my inflamed throat and dream of unobtainable Tahiti.
But Tahiti Tourisme had not given up on me, may their frangipani live forever. They rescheduled as I recovered and free of relapses (and parasites) we flew into Papeete on the main island of Tahiti Nui.
The ukuleles were in full strum, I'd been given a fragrant flower for my hair and the air was hot and sultry.
It then began to rain; and the rain turned to a deluge; a monsoon.
"It's ok," we assured each other "It is the rainy season but it doesn't do this all day."
And by morning it had stopped, and ragged clouds were being blown across the sky, only partly obscuring the island of Moorea.
"See," we said to each other.
The 30-minute ferry crossing to Moorea took a little longer than usual because the sea was churning, as were many passengers' stomachs. Sickbags and paper napkins were in strong demand.
As we stepped off the ferry the rain returned, falling from the sky in sheets from black, lowering clouds. After wading five minutes to the rental car office I was soaked to the skin. Cars traversing the nearby main road were sending waves of water into the tiny forecourt.
An hour later we were being shown into our overwater bungalow at the Moorea Pearl Resort and Spa. I pulled back the curtains to see the lagoon. Before me stretching towards the wave-pummelled reef was an expanse of milk chocolate sea. Lengths of coconut palm drifted past. I peered through the glass panel under the coffee table. A coconut bobbed in the latte-coloured lagoon.
But, our room was strewn with hibiscus flowers, there was a fresh pineapple to eat and I didn't have bilharzia.
Jill Worrall travelled to French Polynesia courtesy of Tahiti Tourisme and Air Tahiti Nui and stayed at the Moorea Pearl Resort and Spa.